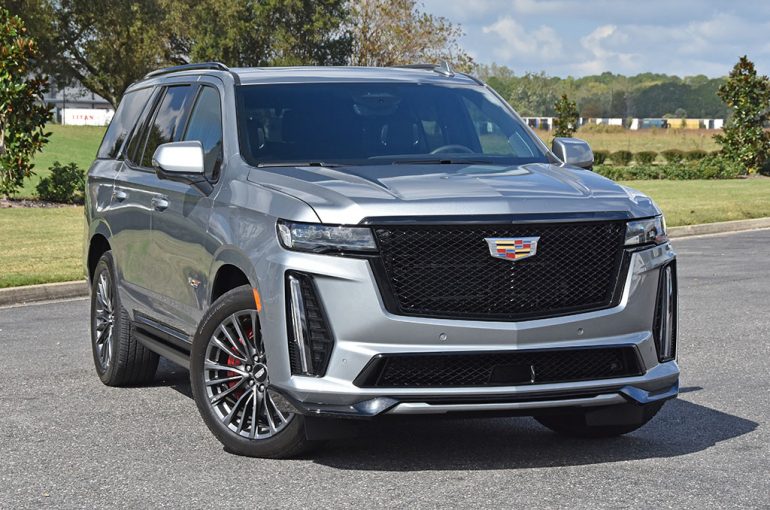 Do you remember the part in the original Jurassic Park movie where Jeff Goldblum's character, Dr. Ian Malcolm, said, "You did it you crazy son of a b****, you did it"? Well, this week has been much of that statement on repeat as I drive the new 2023 Cadillac Escalade V that touts 682 horsepower from a supercharged V8 engine where I'm in continual disbelief that Cadillac created such a thing, and I wholeheartedly love it!
The new 5th-generation Cadillac Escalade was already one of my favorite body-on-frame SUVs when I first had an opportunity to review it nearly two years ago. Little did I know at the time that Cadillac would come through on the rumors of doing a "V" version of the large SUV. I suppose you can call it a last hurrah to what is capable with the internal combustion engine before electric vehicles start to take over. I totally get what was done here, I'm a huge fan of it, and I wish there was more coming.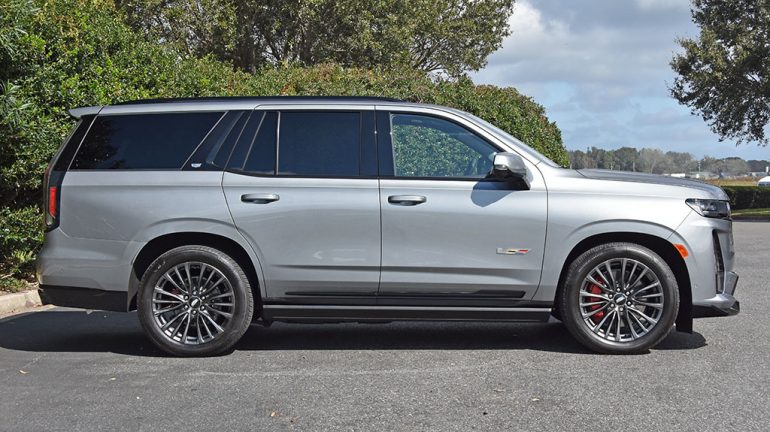 Not only does the new Cadillac Escalade V subtly change up its exterior looks a bit to fit the part of a performance version of the big SUV, but it does so with class and to not offend anyone. After all, the Escalade V is something that all types of people will drive – not just someone who seeks a thrill ride because it happens to have a supercharged V8 that pumps out some serious power. Definitively, it's a vehicle that a family man can drive and hold on tight to his man card, or one that any woman can pilot and laugh at the kid who thought he could jump out in front of her in his Honda Civic Si.
Performance and Driving Character
The new Cadillac Escalade V has a familiar engine that's found in the new Cadillac CT5-V Blackwing, a 6.2-liter supercharged V8. Only in the Escalade, there are 14 more ponies but a few less lb-ft of torque for a total of 682 horsepower and 653 lb-ft of torque. The power is sent to an all-time four-wheel-drive system but first going through a buttery smooth 10-speed automatic transmission that can shift lighting quick when needed or when in the Sport or V drive modes.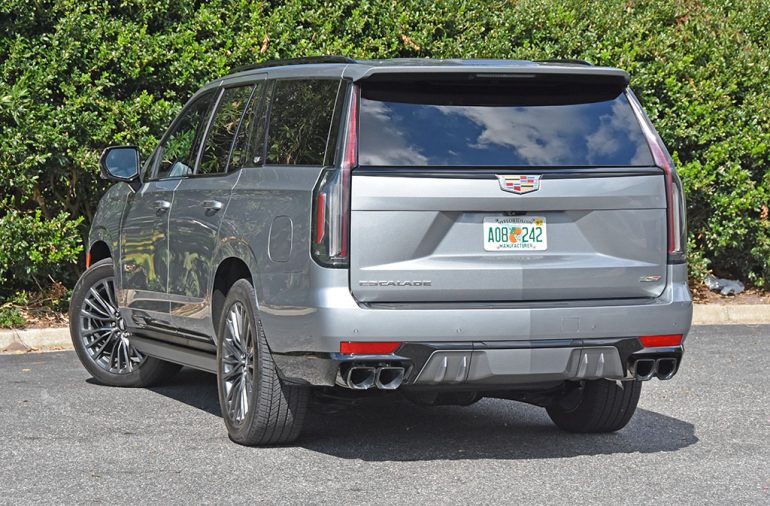 There's something special to be said about the Escalade V in that Cadillac didn't just take the Escalade Sport Platinum trim and put the supercharged V8 and it and let it fly – they went the extra mile to make the rest of the vehicle work with that extra 262 horsepower where it doesn't ever feel sloppy or not up to the task of welding that power and the weight of such a large vehicle. We're talking about managing just over 6,200 pounds, and thanks to the latest magnetic ride control and a quick-reacting adaptive air suspension system specifically tuned for the Escalade V there's a welcomed amount of body control that I didn't think was possible.
I won't go as far as to claim that the new Escalade V is anything remotely similar to a sports car in terms of handling. However, the Escalade V elevates the scope of what one of the largest SUVs around can do out on the road leaving a huge smile on the driver's face while toting six other passengers.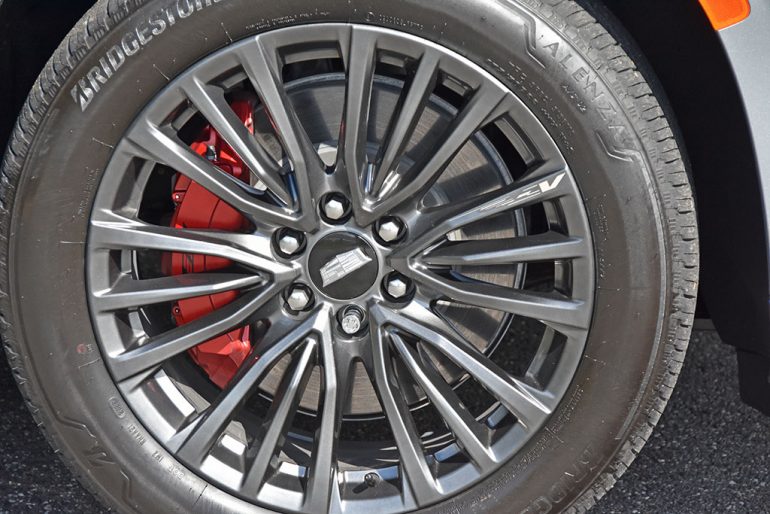 The Escalade V is an outright beast, one that takes the engineering from other Escalades and modifies it to handle the extra power while keeping the composure of the body movement. For example, laying into the throttle the Escalade V's suspension immediately firms up and prevents excess body lift in the front aiding to help keep all four wheels firmly planted on the road. Even during braking, using the beefy 6-piston front Brembo calipers and large steel rotors, the Escalade V reacts to prevent it from plowing, again, surprising the driver with some unexpected control.
Lateral handling is a different story as there's a lot of heft to contend with but the Escalade V through its unique suspension tuning and the lightning-quick reaction of the magnetic dampers tends to keep body roll in check. There's even a V drive mode that lowers the ride height for a lower center of gravity if you ever want to be adventurous and carve canyons in your big SUV. Still, in being completely honest and transparent here, the Escalade V is probably the most fun you'll have in an SUV of this size. However, canyon carving should be done with some restraint because there's only so much stability control can do in fighting the laws of physics handling 6,200 pounds on four all-season 22-inch tires.
The last characteristic that must be mentioned is the sound that the Escalade V makes. To put it simply, the exhaust is one of the best parts of such a vehicle that emits ear titillation that first seems out of place. There are six drive modes, Tour, Sport, Snow/Ice, Tow/Haul, My Mode, and V mode. In the Tour mode the exhaust is in its middle setting, which remains to be rather loud, especially under moderate to full acceleration. Closing the exhaust valves for a "Stealth" sound setting requires you to bring up the My Mode setting to dial in certain vehicle characteristics, including the exhaust where things aren't as boisterous unless you go full throttle where the valves automatically open. There are even deceleration burbles that you get from the exhaust at times, which are hilarious to hear in such a luxurious huge SUV. Using the V drive mode and launching the big Caddy you'll hit 60 mph in about 4.5 seconds – not the fastest thing around but it's something special for such a big vehicle to move out like this does. Cadillac didn't hold back, and they make the presence of the Escalade V well known when you put your foot into it, and I just love it.
Fuel Economy
The new Cadillac Escalade V isn't shy about being the raucous large body-on-frame SUV that it is. That theme continues deep into its boastfulness in drinking copious amounts of required premium unleaded fuel to the tune of the EPA-estimated 11 mpg city and 16 mpg highway. Around town you'll expect to get close to the 11-mpg figure, especially when you are having fun listening to that growing exhaust note that turns heads – you can literally see the digital fuel gauge moving during those times. I am happy to report that you can better those figures where I saw a steady 18.4 mpg on the Interstate traveling at 75 mph for just over 230 miles. That was actually surprising and pleasing at the same time considering the price of gas these days. The 24-gallon fuel tank could have been a little larger as the highway cruising range is just over 410 miles if you go by the 16 mpg EPA figure. Either way, no one buying the Escalade V is going to complain much considering you're already paying six figures for such a vehicle – just know that visiting the gas station will be a regular occurrence.
Interior and Technology
Just like the rest of the Escalade lineup, the Escalade V features a luxurious interior and only changes a few things such as adding the V drive mode button and placing a few "V" logos throughout. Otherwise, you have a cabin that's indicative of a luxury land yacht, or at least one that's almost as large.
The highlight of the interior is the prided curved OLED screens that make up 38-inches of real estate featuring the 16.9-inch infotainment touchscreen, 14.2-inch digital gauge cluster, and a 7.2-inch touch control panel for display of the trip computer, toggle of the screen information (gauges, navigation map, augmented reality camera display, night vision toggle), and color heads-up-display (HUD) adjustments. Wireless Apple CarPlay and Android Auto nicely integrate into the curved infotainment screen in a scaled down section of the display. The wireless charging pad slot is actively cooled to keep your smartphone from overheating, which is a welcomed and often overlooked feature of most new GM vehicles.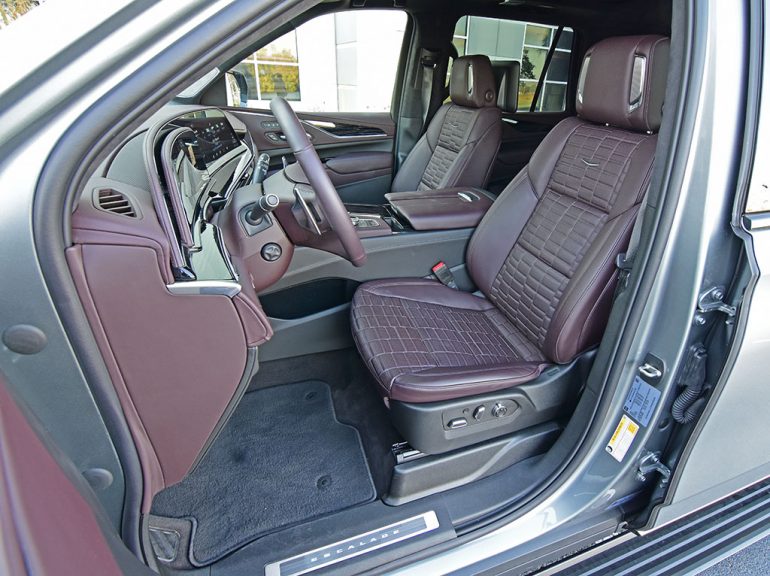 The infotainment system has a short learning curve to overcome but having the ability to control it through either the touchscreen or physical buttons and a control knob adds to its user-friendliness. The crispness and brightness of the OLED on-screen icons and displays make it easy to land on the proper control each time as does having the set of physical automatic climate controls below the screen with their own color LED display. There's also something to be said about the attention to detail of the screens being wrapped in stitched leather and the quality of materials used throughout the cabin of the Escalade V. You also get heated, ventilated, and massaging front seats, and the second-row captain's chairs are heated. I only wish the seat massage function was applied to the lower part of the seat instead of just the seat back. Fundamentally, the Escalade V takes all of what you get in the Escalade Sport Platinum trim and surrounds it with a beastly powertrain – that's the V in a nutshell. Three rows of strap-in and hold on for some luxurious fun.
Safety
All the expected active safety features are included in the Escalade V with the exception of leaving General Motor's delightful SuperCruise out of the equation on my test vehicle, which has limited availability (possibly due to the chip shortage) but is said to return at a later date. Otherwise, you still get adaptive cruise control, blind spot monitors, lane departure warning/keep assist, rear cross-traffic alert and emergency braking, forward collision warning with emergency braking/pedestrian detection, a 360-degree camera system, and the welcomed digital rearview mirror.
Price
The pay-to-play equation is fitting for the new Cadillac Escalade V as the pricing is set just at $149,485 with my test vehicle coming to $151,280 with just the only options being a console refrigerator w/freezer and the Argent Silver Metallic paint color option. In all, that's not an outrageous price for what you get in the fastest body-on-frame luxury SUV around. I'll certainly be on the lookout for this hurrah at a "reasonable price" to place one in my garage one day before EVs start to take over.