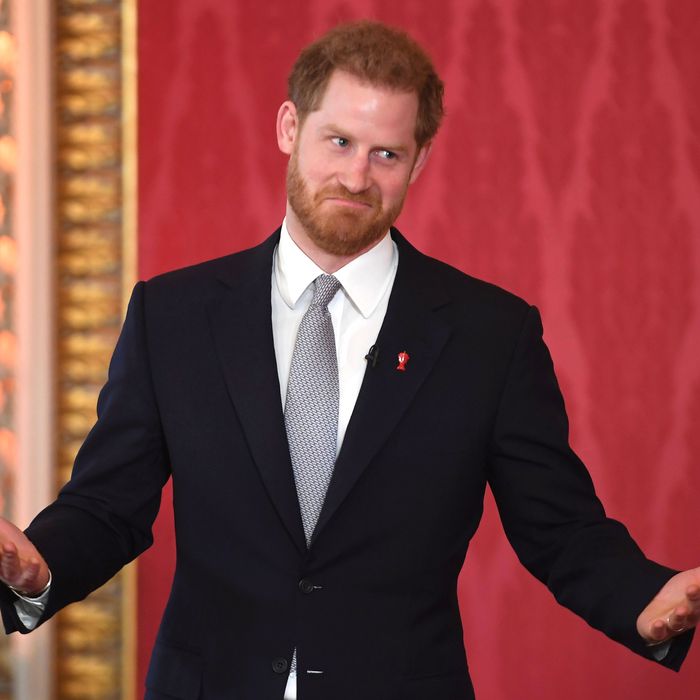 Oops, he did it again.
Photo: Jeremy Selwyn – WPA Pool/Getty Images
Like Prince Harry, I have been struggling recently with the question of whether I should reject my birthright. But while Harry's forthcoming memoir, Spare, seems likely to sever his relationship with his family for good, it may bring me back to my inherited affinity for royals-watching.
Royals-watching was thrust upon me at a young age. I was born the same year as Harry, and as a small child, I recall hearing my mother's detailed thoughts on Princess Diana's wedding dress ("Too poofy"), Prince Charles's affair with Camilla ("Creepy and sad"), and the royals' mandatory pantyhose rule ("A fine example for us all"). As I grew older, my mom and I watched Sarah Ferguson tell Oprah that royal life is "not a fairy tale," closely followed the aftermath of Princess Diana's tragic death, and went to a theater to watch Peter Morgan's dramatization of the aftermath in The Queen. I woke up early to watch Kate Middleton's wedding and stayed up late searching for clips online of Oprah's interview with Harry and Meghan Markle (I'm still upset that CBS didn't stream it immediately).
This past fall, however, Netflix pushed me past my limit when The Crown slowly examined Prince Philip's love of carriage-driving and the Harry & Meghan docuseries revealed that their courtship involved a doggy-ears Snapchat filter. I get it — the royals are largely a bunch of monsters. "Harry and Meghan are at least partly correct, but they're also so annoying," as Gawker aptly put it. Isn't this all too much, even for devoted Anglophiles?
Apparently not! I had no intention of reading Spare, which will be released on January 10, but the leaked details are simply too explosive to ignore. Please join me in the coming days as I rank Harry's big revelations from most to least bonkers and accept that fully escaping the royal family — even when you're just an American watching from your couch — is nearly impossible.