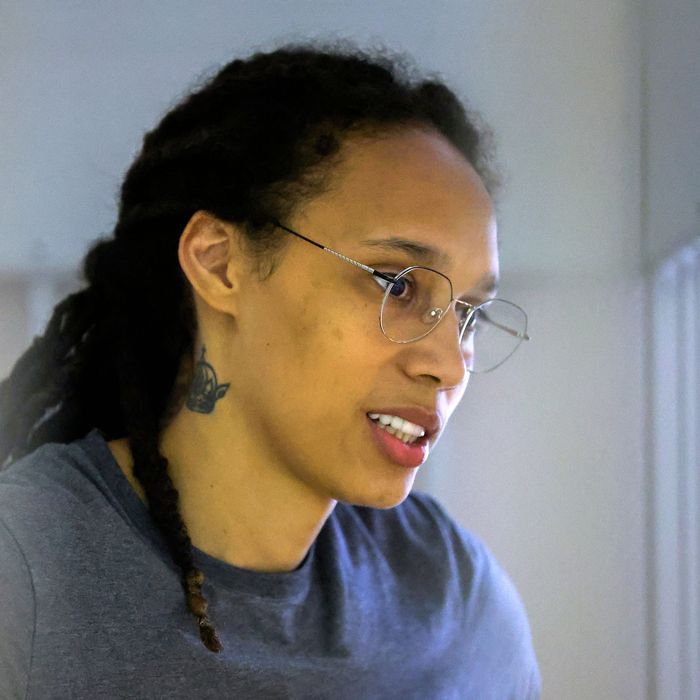 Brittney Griner is escorted to a courtroom for a hearing, in Khimki City Court, outside Moscow, Russia, on July 7, 2022.
Photo: Evgenia Novozhenina/POOL/AFP via Getty Images
Brittney Griner, the WNBA superstar who has been detained in Russia since February on drug charges, has been released in exchange for Viktor Bout, the notorious international arms dealer.
"I spoke with Brittney Griner," President Biden said from the White House as he announced her release. "She's safe. She's on a plane. She's on her way home."
Griner's wife, Cherelle, followed Biden and thanked the president. "So, over the last nine months, you all have been so privy to one of the darkest moments of my life," she said. "And so today I'm just standing here overwhelmed with emotions, but the most important emotion that I have right now is just sincere gratitude for President Biden and his entire administration."
Griner, 32, was arrested on drug-smuggling charges at Moscow's Sheremetyevo Airport early this year after Russian authorities said they found vape canisters with cannabis oil in her luggage. The two-time Olympic gold medalist played professional basketball in Russia during the WNBA off-season. In August, a court sentenced her to nine years in a Stalin-era penal colony for women 300 miles west of Moscow.
Griner was brought to the United Arab Emirates, where she was traded for Bout, who was serving a 25-year sentence in the U.S. after being convicted of arms-smuggling charges in 2011. Moscow portrayed Bout's release as a hard-fought victory, which comes at a period of high tensions between the nuclear superpowers given the war in Ukraine.
Russian state television released a video of the moment Griner and Bout passed each other on the runway:
Absent from the exchange, however, was Paul Whelan, an American corporate-security executive who was detained in Russia in 2018 for allegedly committing espionage — a charge both he and Washington have vigorously denied.
In his remarks, Biden said that this was "not a choice of which American to bring home," and that the U.S. did not get to choose between Griner and Whelan. He said his administration remains committed to ensuring that Whelan and other Americans detained in Russia are released as well. In April, Russia released American Trevor Reed in exchange for a Russian held in U.S. custody.
"Sadly, for totally illegitimate reasons, Russia is treating Paul's case differently than Brittney's," Biden said. "And while we have not yet succeeded in securing Paul's release, we are not giving up. We will never give up."
Despite Whelan's continued detention, his brother David told CNN their family holds out hope for his eventual release and is overjoyed that Griner is coming home.
Whelan himself spoke exclusively with CNN, saying in a phone interview that he was happy for Griner and her family, but ultimately disappointed with the lack of progress on his own case.
"I am greatly disappointed that more has not been done to secure my release, especially as the four year anniversary of my arrest is coming up. I was arrested for a crime that never occurred," he said. "I don't understand why I'm still sitting here."
Cherelle Griner said she and Brittney will now work to help free Whelan.
"Today, my family is whole. But, as you all are aware, there are so many other families who are not whole. B.G.'s not here to say this, but I will gladly speak on her behalf and say that B.G. and I will remain committed to the work of getting every American home, including Paul, whose family is in our hearts today," she said.
WNBA Commissioner Cathy Engelbert said in a statement that Griner "has shown extraordinary courage and dignity in the face of enormous adversity."
"There has not been a day over the past ten months where we all haven't had Brittney Griner on our minds and in our hearts and that has now turned into a collective wave of joy and relief knowing that she will soon be reunited with her family, the WNBA player community, and her friends," she said.
This post has been updated.