Cazoo founder Alex Chesterman said he was "incredibly proud of everything the team at Cazoo has achieved" in a financial results statement that revealed the online used car retailer's £704 million losses for 2022.
Revenues rose 91% to £1.25 billion as the business delivered 65,366 units during the 12-month period to December 31, 2022, but the New York Stock Exchange-listed operation's losses racked up as it withdrew from Europe and cut its UK car handover network and headcount.
Its exit from the car subscription market and recent sale of its Cazana used car data business were also among recent moves designed to deliver annual savings of £200m for the business launched in 2019.
But today's results revealed losses up 30% on 2021's £544m at £704m. Adjusted for exceptional and non-recurring items, its EBITDA losses were still £254m, compared with a £168m EBITDA loss in 2021.
Cazoo's newly UK-focussed operation did succeed in improving its retail gross profit per unit to £596 in Q4 (up 156% YoY) as it forecast a further Q1 2023 improvement to £950, however.
Commenting in today's results announcement, Cazoo founder and chief executive Alex Chesterman said: "I am incredibly proud of everything the team at Cazoo has achieved since launch.
"During the year we made a number of important strategic decisions to change gear from fast-paced growth to focus on improving our unit economics in the near term.
"I am very encouraged by the pace of the team's delivery in rightsizing our headcount and operational footprint which we have now completed in order to drive higher margins going forward.
Chesterman asserted that Cazoo's three years of trading shown that there was "a significant appetite for buying and selling cars online", adding that its proposition was "resonating strongly with consumers".
In a trading update published in March Cazoo announced the appointment of former CarShop chief executive Jonathan Dunkley as chief operating officer.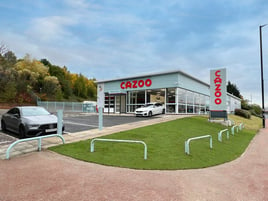 That announcement came on the same day that AM reported Cazoo had axed 15 of its 22 used car handover sites from its website as consultation on closures and staff redundancies continued.
A fortnight ago, meanwhile, staff at Cazoo's former SMH Fleet Solutions (SMH) used car refurbishment centre in Gloucester lamented the loss of the sprawling automotive business as it prepared to close its doors for the last time today.
Elsewhere a member of staff from its Westbury conditioning centre, which closed on the same day, told Westbury's local newspaper, the Gazette and Herald, that Cazoo had "ruined" the once profitable Westbury operation.
Cazoo is now targeting 50,000 to 60,000 used cars sales in 2023, of which 40,000 to 50,000 (2022: 65,366) are expected to be retail units.
It is targeting a full-year retail GPU approaching £1,200 (2022: £403).
Chesterman added: "We have an immensely talented and ambitious team who are laser-focused on our three key priorities for 2023 which are to further improve our unit economics, optimize our fixed cost base and maximize our cash runway.
"We are reconfirming our 2023 guidance with an expectation to finish the year with cash reserves of £110m to £130m, stronger than we had previously indicated.
"The market opportunity for Cazoo is enormous and we are laying the foundations to achieve profitable growth in the future."