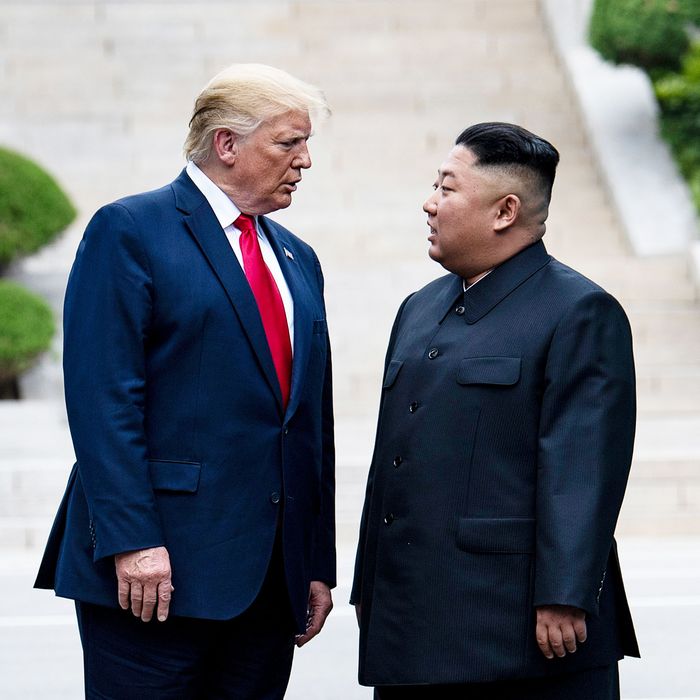 "Can you feel the love tonight?"
Photo: Brendan Smialowski/AFP via Getty Images
Generally, if you have to explain a joke, it isn't working. That's why Donald Trump's recent jabs at Mitch "Broken Old Crow" McConnell and Letitia "Peekaboo" James are so bad. Trump's older nickname work didn't suffer from this problem. Take "Rocket Man" (or sometimes "Little Rocket Man"), his name for North Korean dictator Kim Jong-un. To western audiences, it's a clear, if stunningly unpresidential and ill-advised, reference to Elton John's 1972 hit of the same name. It conjures images of a diminutive leader obsessed with amassing nuclear rockets to potentially annihilate his enemies (though the song may actually be about drug addiction, and songwriter Bernie Taupin has claimed it's about a literal astronaut, which surprised even Elton John).
But perhaps there was a problem with "Rocket Man," beyond its potential for starting World War III: Supposedly, the target of Trump's insult didn't know the song and hadn't even heard of Elton John. In his new memoir, former secretary of State Mike Pompeo says Trump had to explain the nickname to Kim over lunch. Business Insider reports:
Trump started by asking Kim over a meal at the Singapore summit on June 12, 2018, whether he knew who Elton John was, according to the book "Never Give an Inch: Fighting for the America I Love," by former Secretary of State and CIA director Mike Pompeo that's coming out Tuesday. 

When Kim said no, Trump explained that the British singer's 1972 hit song "Rocket Man" inspired him to give Kim the nickname in 2017. 

"Trump said it was a great song, and he intended the reference as a compliment," Pompeo wrote. 

Kim and others at the lunch laughed, and Kim said, "'Rocket man,' OK. 'Little,' not OK." 
Kim certainly didn't see the nickname as a compliment when Trump debuted it in a September 17, 2017, tweet. Or when he added in a speech to the United Nations two days later that "Rocket Man is on a suicide mission for himself and for his regime," so the U.S. may "have no choice but to totally destroy North Korea."
Kim responded by calling Trump a "mentally deranged U.S. dotard" and dismissing his U.N. speech as "unprecedented rude nonsense." The two continued lobbing insults for some time (most notably, Trump suggested Kim is "short and fat," and bragged about the size of his "nuclear button"). But weirdly, within months, Trump started claiming that Kim was actually his pal.
Pompeo isn't the first to suggest that Trump bonded with his new pal by exposing him to Elton John, but that bit of the story is somewhat dubious. Kim Jong-un attended school in Switzerland from late 1991 to early 2001, so he was probably aware of the 1994 film The Lion King, which was scored by Elton John. Indeed, his dictator father actually might have made him watch it, as Bloomberg News reported back in 2014: "One much-circulated story among North Korea watchers is that the elder Kim (a Hollywood movie aficionado), after choosing his successor, supposedly mandated that all North Koreans watch the Disney movie The Lion King." Plus, Kim was living in Switzerland when Princess Diana died, and she was popular among North Koreans. Did he really manage to avoid Elon John's Diana tribute "Candle in the Wind 1997," which was a massive worldwide hit?
That's not the only curious part of the story. Ahead of Pompeo's meeting with the dictator in July 2018, South Korea's Chosun Ilbo newspaper reported that the secretary of State would be giving him a copy of "Rocket Man" on CD, signed by Trump. But Pompeo doesn't mention this in his book. And in 2021, Trump told a significantly different version of the tale. While recounting his meeting that June with Kim during a stop on hisHistory Tour, Trump claimed that when Kim told him he wasn't familiar with Elton John or "Rocket Man" — saying, "No, no. I've never heard of that song" — he whipped out a cassette player.
"I said, 'Well, I brought it for you,'" Trump recalled. "And I had a cassette and I had a machine (and I made sure the machine wasn't made in South Korea). And I played it for him quickly," Trump said.
The rest of Trump's account matches Pompeo's. He said he told Kim, "I could envision you sitting like you sit on a horse on a saddle, sitting on a rocket flying over Japan," so he gave him the "very prestigious" nickname "Rocket Man." But Kim didn't buy it; he objected to the "little" part and they all shared a good laugh.
So did Pompeo just forget the part where Trump had his aides pack an obsolete music player for their trip to North Korea, then carry it into their lunch, just so he could use it as a prop during a delicate meeting with a man threatening nuclear war? Probably not. But Trump's story is better than Pompeo's, and when you're trying to sell tour tickets and self-serving memoirs, that's what really matters.