Experience of the process of selling new cars direct to fleets is hoped to help Audi UK as it prepares for direct-to-consumer sales and dealers operating under agency agreements.
Audi is now in the process of rolling out its agency-style processes to the retail market, having first introduced them to fleet back in 2018.
Warren Richards, who was appointed head of direct sales at Audi in January, part of Volkswagen Group-wide restructuring as fleet director roles were rolled into new direct sales positions absorbing both fleet and retail, told Stephen Briers, group editor of AM and Fleet News, that the experience will be useful.
Playing down any impact on the fleet sector on the new direct sales roles, Richards said: "We have a well-established team of Audi fleet managers meeting leasing companies and fleet customers. We can take that knowledge from fleet and embed it with retail buyers, but our customers shouldn't notice any difference."
Acknowledging that many corporate customers' relationships with manufacturers had deteriorated over the past few months, Richards said: "The most important thing for us is to look after our customers and give them as much information as possible to make the right decisions."
He added: "We have tried to keep the conversation and dialogue going at all times. We are going back to basics and re-engaging with customers and leasing partners, giving them full transparency."
The supply delays which have affected all manufacturers since the first COVID lockdown in 2020 are now easing for Audi, which is reporting six-to-nine-month order times for most models.
"We are seeing good supply come through as we get back to more normalised timescales," Richards said. "Six months is about right for us.
"But we have to move that perception that cars aren't available; we have demonstrated that production is there."
Audi is set for a product onslaught over the next two-to-three years with around 20 new vehicles due for launch, half of which will be full electric.
"It's the fastest introduction of new cars that we have ever had," said Richards.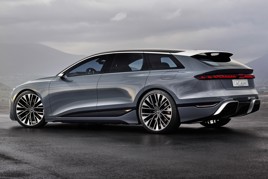 In addition to a new Q6 e-tron and Q8 due later this year, the next generation A6 e-tron (pictured) has been confirmed for 2024 as both saloon and Avant estate. Audi is also planning a smaller A3-sized full electric car which Richards said would be "key" for user-chooser fleets, a segment he believes is as popular as ever.
"By 2027, we will have an electric vehicle in every market segment," he added.
From 2026, Audi has committed to launching only full electric cars, although in the interim it sees a role for plug-in hybrid.
"PHEVs are still really popular and remains a stepping-stone, although we also see a lot more people going straight to BEV; they are more confident and that will only continue to improve," Richards said.
Audi has 1,200 fleet customers and has a twin approach to boosting registrations, said Richards: "Make sure we connect with our customers, and reconnect where necessary, to understand their needs and increase our share with them; and working closely with our local business development managers on fleets of five-plus vehicles as well as the bigger customers."
The customer approach has become increasingly consultative to support fleet managers and procurement managers as they transition to electric. "The vehicle sale comes as a result of that relationship," Richards adds.
He recognises the challenge coming from new market entrants, in particular the Chinese brands launching in the UK over the next 12-18 months, but believes Audi has the products to fend off their advances.