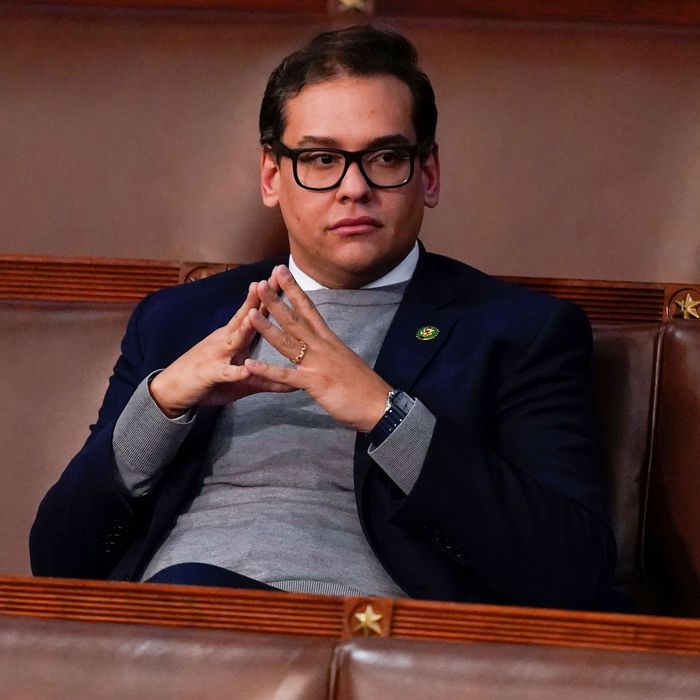 Just doing some plotting.
Photo: Alex Brandon/AP/Shutterstock
Former Baruch College volleyball star George Santos is facing calls to resign from several of his new GOP colleagues in Congress and a large contingent of Republicans back home on Long Island (he may also be in some serious legal trouble). So far, Santos has remained defiant, pledging that he won't step down from his seat.
That hasn't satisfied the reporters camped out by the representative's office, however, who shout questions regarding his precarious status as a lawmaker every time he enters or exits. On Thursday morning, Santos responded to those questions in a distinctly strange fashion, saying he would resign if 142 people asked him to.
But 142 people? Which 142? What could that number refer to? Even close watchers of Congress were baffled. If Santos was referring to the number of Congressional Republicans in the House right now — or even half of that number — the math doesn't work (not that this would necessarily stop him). The number 142 is not important in Judaism, Santos's fake religion, nor is it part of any tradition at Horace Mann, Santos's fake high school. Maybe it was completely random — part of a clever ruse to get people to focus on its mystery instead of Santos's still-mounting list of lies?
But no. Santos later clarified that he meant 142,000 people — the number who had voted him into office. The explanation is both pedestrian, nonsensical, and, in classic Santos style, not exactly right. Per the New York Times, Santos actually got 145,824 votes in November. For once, the representative sold himself short.