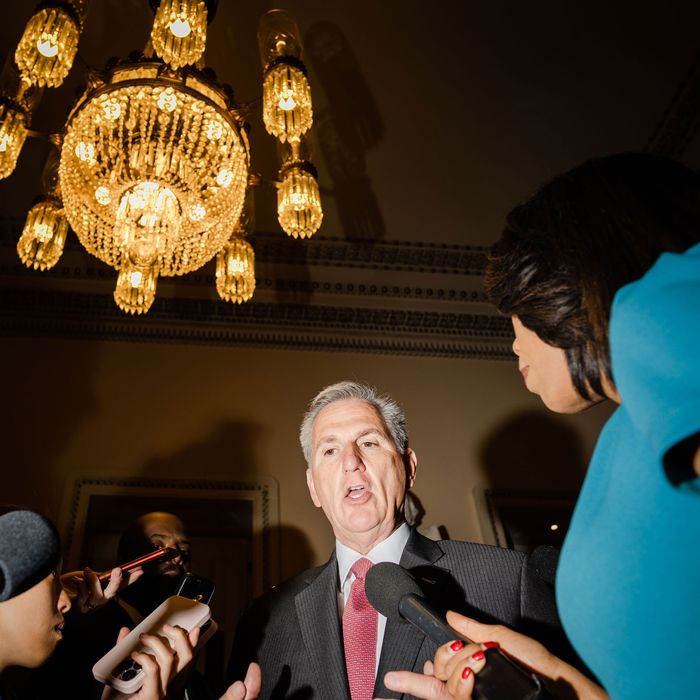 Photo: Kent Nishimura/Los Angeles Times via Getty Images
After weeks of unnecessary brinksmanship by Republican leadership in Congress, House Speaker Kevin McCarthy is finally reportedly working with Senate Democrats and the White House to raise the debt ceiling for the next two years — thereby saving the country from defaulting on its debt and flirting with recession risk.
To recap, the debt ceiling is the max amount of outstanding debt the federal government is authorized to borrow to keep the country running, from Defense spending to Social Security and beyond. It is not the cap for what the government spends — in fact, it's paying back money that's already been spent. The ceiling was last raised two years ago to a limit of $31.4 trillion, which the government hit in January. Since then, it's been able to avoid catastrophe by taking "extraordinary measures," which amount to delaying investments for pensions and other payments. President Joe Biden has made it a goal to reach a two-year agreement for the ceiling, though Republicans — who rarely care about the national debt when they hold the Oval Office — have been playing hardball ahead of the June 5 deadline. Below are updates on the negotiations as lawmakers head out of town for the long weekend.
Treasury secretary Janet Yellen told U.S. lawmakers in a letter on Friday that the U.S. will have run out of funds to pay its bills by June 5, following the more than $130 billion in payments scheduled for June 1 and 2. Previously, Yellen had estimated the deadline would be June 1, but now lawmakers will have until Monday, June 5, to avoid a default.
Per the current state of negotiations, Republicans want to create steep requirements for people who receive SNAP food benefits, cash assistance, and Medicaid. With the Congressional Budget Office estimating that as many as 600,000 Medicaid recipients could lose coverage, Biden has refused to accept compromises on this front. A source familiar with the negotiations told the Associated Press that both sides are currently "dug in" on this matter. But House Speaker Kevin McCarthy said on Friday morning that "we made progress last night … we know it's a crunch."
Both parties want to raise the ceiling until after the 2024 election. While Biden wants to keep spending levels steady — neither growing nor receding — McCarthy hopes to cut spending for next year and levy a one percent cap on spending growth for 2025.
Treasury Secretary Janet Yellen has warned that the U.S. could run out of money to pay its debts by June 5, resulting in a default that would have severe effects throughout the global economy — with the impact increasing the risk of an immediate recession if the default goes on for weeks. With lawmakers going into recess until Tuesday for Memorial Day, that leaves less than a week to get it done after they return.
This post has been updated.