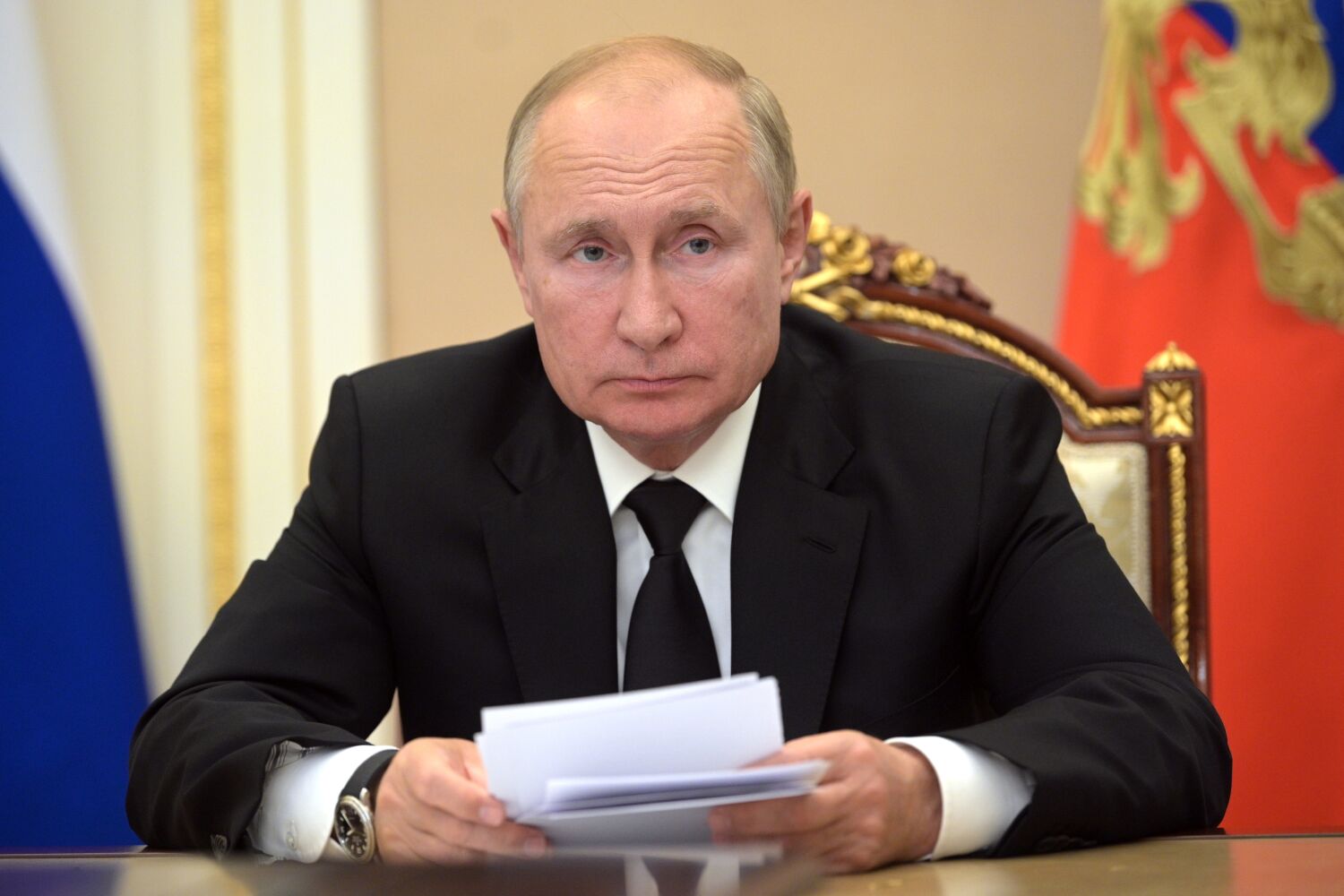 AMSTERDAM — 
The International Criminal Court on Friday issued an arrest warrant for Russian President Vladimir Putin and one of his government ministers — a largely symbolic step, but one that could resonate powerfully with those hoping to see top Kremlin leaders held to account for a brutal war.
The warrants, the first issued in connection with the year-old Ukraine conflict, cites alleged involvement by Putin and Maria Lvova-Belova, Russia's commissioner for children's rights, in the deportations and transfer of thousands of Ukrainian children from Russian-occupied parts of Ukraine since last February's invasion.
Ukraine has said that at least 10,000 Ukrainian children were believed to have been deported to Russia without their parents. Lvova-Belova in particular has lauded the practice of bringing Ukrainian children to Russia, and previously disclosed her own "adoption" of at least one Ukrainian child.
Putin, ICC judges said in a court-issued statement from The Hague, bears ultimate responsibility for the transfers, which constitute war crimes.
Russia does not recognize the ICC's jurisdiction, and there is virtually no chance that Moscow would hand over Putin, or for that matter any other suspects, in the absence of some dramatic development such as regime change.
But Ukrainian officials hailed the court's move as a landmark step toward attaining accountability.
"Wheels of justice are turning," Foreign Minister Dmytro Kuleba wrote on Twitter.
Human rights groups applauded the court's actions, even while acknowledging its practical limitations.
"The ICC has made Putin a wanted man," New York-based Human Rights Watch said in a statement. It called the warrant a first step toward ending "the impunity that has emboldened perpetrators in Russia's war against Ukraine."
The court's action makes Putin a member of an exclusive but undesirable club. ICC arrest warrants have only ever been issued for two other serving presidents: Sudan's Omar al Bashir and Libya's Moammar Kadafi.
Russia again scoffed at the notion that the ICC had any sway over Ukraine-related matters. Foreign Ministry spokeswoman Maria Zakharova said in a statement on the messaging app Telegram that the court's actions were meaningless for Russia — "legally null and void."
The court has no police powers, and its president, Piotr Hofmanski, said in a video statement that any steps to execute the warrants would have to be taken by the international community.
One immediate consequence for anyone named in ICC warrants is difficulty of travel to countries that accept the court's jurisdiction. Even though Putin and senior aides rarely travel to such countries, the warrants represent a powerful rebuke — and yet another mark of Moscow's isolation.
The issuance of the warrant comes only days before China's top leader, Xi Jinping, is due to visit Russia, in a continuance of what has been an awkward alliance over Ukraine. The two countries expressed solidarity just prior to the invasion, but China has appeared cautious about some of Putin's Ukraine-related actions, including nuclear saber-rattling. China made no immediate comment on the court's move.
The U.S., like Russia, is not one of the more than 120 members of the International Criminal Court. The U.S. has long objected to the possibility that a non-U.S. court would go after American soldiers.
But the Biden administration has been supportive of the court in its pursuit of evidence of Russian war crimes in Ukraine and reiterated that on Friday.
"There is no doubt that Russia is committing war crimes and atrocities in Ukraine, and we have been clear that those responsible must be held accountable. The ICC Prosecutor is an independent actor and makes his own prosecutorial decisions based on the evidence before him. We support accountability for perpetrators of war crimes," National Security Council spokeswoman Adrienne Watson said in a statement.
"I think it's justified," President Biden said Friday.
"But the question is, it's not recognized internationally by us, either," Biden said of the court. "But I think it makes a very strong point. … [Putin has] clearly committed war crimes."
Ukraine is also not a member of the court. However, it has granted the ICC jurisdiction over its territory. The ICC prosecutor, Karim Khan, opened an investigation in the war's early days and has visited Ukraine four times since then.
In its statement, the ICC cited what it said were "reasonable grounds" to believe that Putin and Lvova-Belova bear responsibility for the transfers.
But it went further in the case of the Russian leader, saying there are also grounds for individual criminal responsibility based on his "failure to exercise control properly over civilian and military subordinates who committed the acts" in question, including child abductions.
While Russia has vehemently denied committing war crimes in Ukraine, it has been open about bringing Ukrainian children to Russia, but casting such transfers as a humanitarian gesture.
Last spring, the Russian president personally issued a decree smoothing the path for formal adoption of Ukrainian children by Russians.
The arrest warrants came a day after a United Nations-backed report alleged Russian war crimes in Ukraine, including the killings and torture of civilians in Russian-occupied territories.
That investigation also focused on the issue of forced deportations of Ukrainians, including children.
For Ukrainians, the arrest warrants are a major morale boost at a difficult juncture in the war. Ukraine is openly fretting about the need for timely Western deliveries of sophisticated weaponry, which the government of President Volodymyr Zelensky says the country desperately needs in order to mount a credible spring offensive in coming weeks.
The two sides have been locked in an ugly attritional battle for the eastern town of Bakhmut, with enormous casualty rates on both sides, though Western analysts believe Russia is seeing considerably greater losses of troops and equipment.
Times staff writer Tracy Wilkinson in Washington contributed to this report.