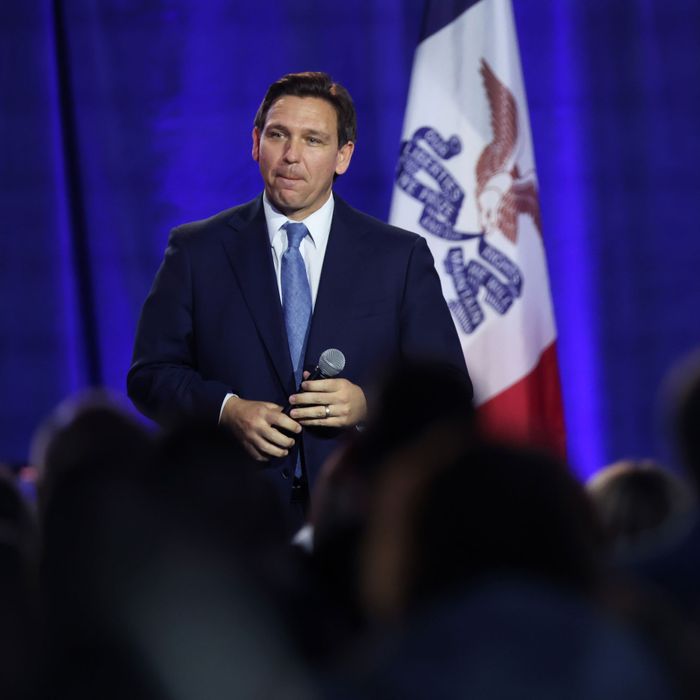 Photo: Scott Olson/Getty Images
Much of the case for the 2024 Republican presidential primary being a two-horse race is based on Donald Trump's and Ron DeSantis's unusually strong standings in national polling. But this won't mean much if they don't make a strong start in early GOP nominating contests, giving them enough momentum to marginalize their many rivals. This past week, both the former president and the Florida governor hit the 2024 campaign trail in Iowa, which will hold the very first contest (likely in early January). The Iowa caucus is often grueling for presidential candidates, and Trump and DeSantis have distinct challenges in the state.
An early Iowa survey by the renowned pollster Ann Selzer showed the two men with roughly equal favorability ratings as the campaign gets underway. Trump lost to Ted Cruz in Iowa's 2016 Republican caucus, but then he carried the state handily in the 2016 general election and again in 2020. He developed close ties with leading Iowa Republicans, making longtime governor Terry Branstad his ambassador to China and Branstad's son Eric, an ethanol lobbyist, his top political operative in the state. He also greatly improved his relationship with conservative evangelical leaders via his Supreme Court appointments and other policies. And he returned to Iowa often for campaign-style rallies.
In an interesting comparison of Trump's inaugural campaign speeches in Iowa in 2015 and 2023, the Washington Post's Philip Bump observed that the ex-president is now spending a lot of time cashing in on his record in office:
He spent an enormous amount of time talking about issues of specific interest to Iowans — and praising Iowa and Iowans in general. Lots of talk about how he'd protect the use of ethanol as a fuel supplement, something that he noted DeSantis had opposed. Lots of talk about how he'd bolstered farmers with his trade deal with China.
Trump also stressed his decision to move the U.S. embassy in Israel from Tel Aviv to Jerusalem, a major Christian-right priority.
Iowa presents two big concerns for DeSantis (who has yet to officially announce his 2024 bid). First, the state's Republican elites aren't climbing onto his bandwagon as they are in some other parts of the country. Second, there are still significant doubts about his appetite for the kind of retail campaigning that is required in the state. Close DeSantis associates from Florida continue to whisper to the media about his discomfort level with face-to-face public interactions and even his tendency to eat messily in public. There will be extra scrutiny of DeSantis as he inevitably tours diners and local restaurants in the state and navigates the many pitfalls of an obligatory appearance at this August's Iowa State Fair, with its bizarre foods and corny candidate rituals. He'll also almost certainly have to bow to the Great Corn Idol and rethink his opposition to ethanol subsidies and other farm-state perks.
The germaphobe Trump has had his own issues with retail politicking over the years. In 2015, his main occupation at the state fair was an off-site offer of rides for kids in his luxury helicopter. But according to Bump, he's settling into a more accessible rally style this year, inviting questions from the crowd at his initial rally in Davenport.
A problem for both of the front-runners is that Iowa gives a lot of opportunity to dark horses, who can make a splash in the caucuses even if they aren't doing well in national polls. In December 2011, for example, two weeks before he narrowly defeated Mitt Romney in Iowa, Rick Santorum was running a poor fifth in national polls, registering about 4 percent support. But Santorum worked the conservative-evangelical circuit in Iowa, boasting extremist cultural positions and vaguely "populist" economics, and he managed to beat the odds. It's precisely the narrow path you can expect former vice-president Mike Pence, with his deep ties to the Christian right, to pursue in Iowa; it really doesn't matter how poorly he's polling in later states. Iowa Republicans, moreover, are acutely conscious of their role as a vetter of presidential wannabes; they will give a look and listen to even the most allegedly minor candidates, which is good news for actual or potential candidates like Nikki Haley, Tim Scott, Mike Pompeo, Asa Hutchinson, and Vivek Ramaswamy, every one of whom has been seen in the state lately.
The civic pride of Iowa took a blow when Democrats dumped the first-in-the-nation caucus from its early-state calendar for 2024. But Iowans will still stand tall when Republicans stoop to beg them for support.