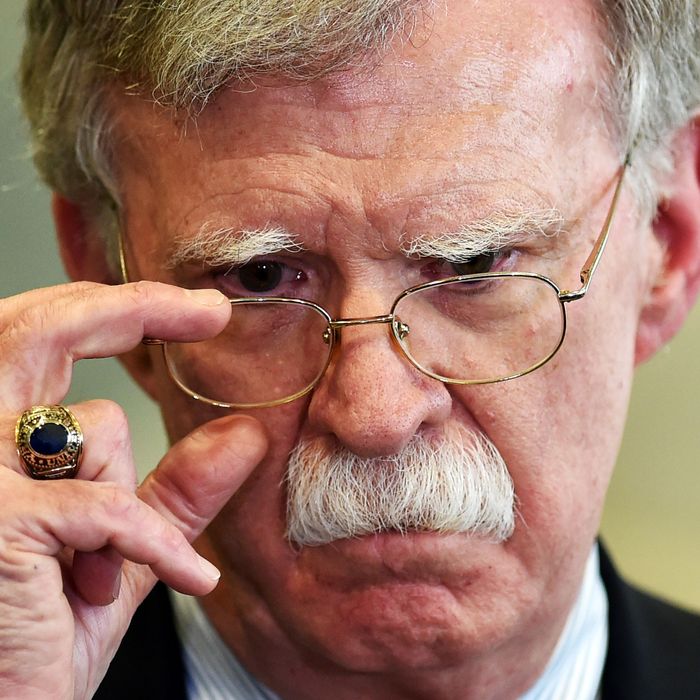 The man with the mustache is back.
Photo: Sergei Gapon/AFP via Getty Images
Earlier today, John Bolton officially entered the 2024 U.S. presidential race with an announcement to the British media. Bolton, who was George W. Bush's ambassador to the United Nations during the Iraq War and Donald Trump's national security adviser until he was fired via Twitter, insisted in his Good Morning Britain interview that this is not a joke or a shameless attempt to sell more books and boost his speaker fees. "I wouldn't run as a vanity candidate," he said. "If I didn't think I could run seriously, then I wouldn't get in the race."
The two-and-a-half minute GMB clip captures the oddness of his run:
Bolton is making this announcement on a television show that doesn't air in the U.S. (Just consider that for a moment.)

He says he'd run "primarily on the basis that we need a much stronger foreign policy." That feels a little on the nose, as being a warmonger is the only thing Bolton is known for: He has admitted to planning foreign coups on national TV, and he was fired as national security adviser because he kept trying to start wars after promising Trump that he wouldn't.
Bolton suggested that he could beat Trump in 2024, because "Trump's support within the party itself is in terminal decline." But Bolton skips over the fact that he has essentially zero support in the GOP. Beating Trump sounds fine — it's getting people to vote for Bolton that's the issue. As GMB interviewer Noel Phillips noted, "His opponents say he lacks in popularity, but a defiant John Bolton is preparing for a fight."
Bolton seems set on alienating British people too. He spent part of the interview defending former U.K. prime minister Liz Truss, who was ousted after 44 days, and her wildly unpopular economic policies.
Is it possible that there are a few Republican voters who hate Trump, love U.S. military intervention, and think Ron DeSantis is insufficiently mustachioed? I suppose so. But Bolton winning the 2024 GOP presidential nomination feels less plausible than the idea that he's dabbling in comedic performance art.