As recently as October of 2021, Kaoru Mitoma had yet to start a game since moving to Europe. He was on loan and on the bench for Union Saint-Gilloise in Belgium. But with his team two goals and one man down to Seraing, they needed something different.
Mitoma came on at half-time. By full-time, he had inspired an extraordinary comeback, scoring an improbable hat-trick in a 4-2 win. "It was the Kaoru Mitoma show," Christian Burgess, Union's English defender, tells Sky Sports. "He just destroyed them."
It was a glimpse of what is becoming an increasingly frequent sight for Premier League audiences. Since breaking into the Brighton starting line-up in the thrashing of Chelsea, Mitoma has been a revelation, emerging as one of the most exciting players around.
His opening goal against Leicester on Saturday was his best yet, finding the top corner of Danny Ward's net from outside the penalty box. Leandro Trossard has left for Arsenal but Brighton supporters are already convinced that his replacement can be even better.
Mitoma inspired the comeback at Wolves, scored home and away against Arsenal, began the recent rout of Everton and shone again in beating Liverpool. A dribbler who can glide beyond defenders and an unusually calm finisher, the sight of him in full flow is a joy.
Burgess had predicted this impact, whether it was tipping off a Brighton fan to stick him in his fantasy team or mentioning to their goalkeeper Jason Steele during a pre-season game that Mitoma was the real deal. It had not taken Burgess long to be convinced.
"I remember one of his first training sessions," he says.
"He was just electric. Those first few steps are so fast that he was destroying my friend Jonas Bager. Thankfully, he was on my team so me and this other Danish guy Casper Nielsen were just laughing at Jonas. He went past him three times with ease.
"Jonas is not someone you want to wind up by doing that to him. He was like, 'Watch this.' The next time he just took Kaoru out. We were just laughing because it was the only way to stop him. Jonas, bless him, is not the quickest, but nobody really had a chance.
"That was my first memory of him. You could just see he was very good. He had the technical ability and he obviously had the physical attributes. But he also had this coldness on the ball that made him a standout player who could make the transition."
His opening goal at Goodison Park was perhaps the clearest example yet of this particular quality. He touched the ball only three times – one to evade Nathan Patterson, another to skip beyond Conor Coady and the last to stroke the ball beyond Jordan Pickford.
As with his goal against Arsenal just days earlier, Mitoma passed it into the far corner. There have been only a handful of examples of it just yet, but there have been enough of them to prompt an eye-opening comparison from his former team-mate in Belgium.
"He finishes like Thierry Henry," says Burgess. "He is just so nonchalant at finishing into the far corner, whether it is in training and or in games. It is a strange one because most people panic but he seems to have so much time on the ball in those situations."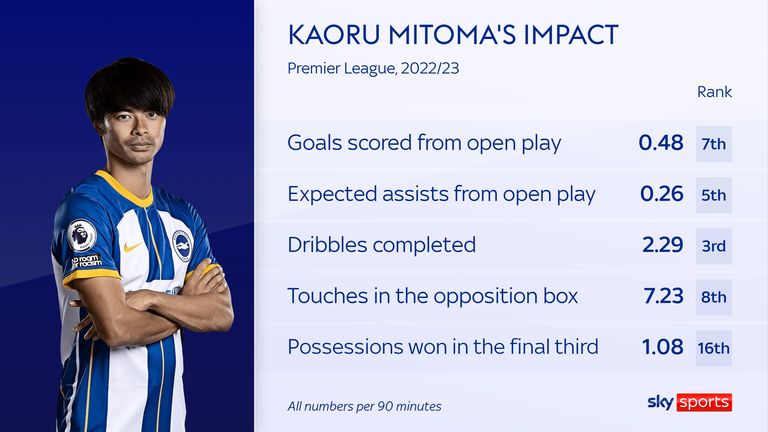 Mitoma's game is about more than goals. He is the only player in the Premier League to rank among the top 10 for goals scored from open play and expected assists from open play per 90 minutes. In other words, nobody is scoring and creating as regularly as he does.
It is his skill in one-on-one situations that has allowed him to find those positions, ranking third for completed dribbles per 90 minutes this season. His old team-mate at Union might have been the first to be twisted inside-out on European soil but he was not the last.
Maybe it helps that Mitoma is a student of the game, quite literally. He chose to attend the University of Tsukuba rather than enter the professional game at 18 and it has since attracted considerable media attention that he wrote his thesis on the art of dribbling.
Curiously, it means that he had something in common with Burgess, who was studying history at the University of Birmingham when he was offered a contract at Middlesbrough. Not that the two men were aware of their similar routes into the game at the time.
"I found out on social media, it is an amazing story. Kaoru did not speak much English so you could not find out much about him. All we knew is that he had come from Japan, signed with Brighton, and now he was with us. We knew absolutely nothing about him.
"But he was a really good lad, very humble and quiet. He just smiled all the time and laughed at the jokes even if he did not understand but I think he understood more than he could say. At least he led us to believe that. But to get stuff out of him was harder.
"It must have been so tough for him because he barely spoke any English so you did not hear much from him. Imagine not being able to communicate. But his English did improve during his time at Union because it is mainly an English-speaking club."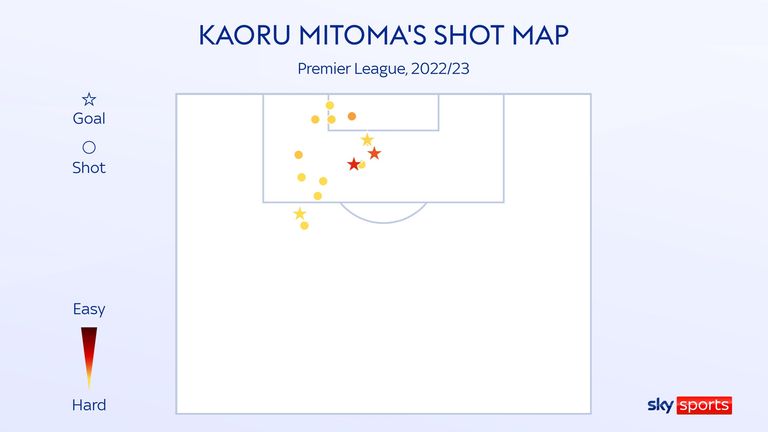 Indeed, it is not the only thing that improved. Perhaps that is to be expected given that Mitoma has made only 23 starts in league football since moving to Europe. At 25, his university background might mean that he is a late developer. There is more to come.
"It is funny because he did not start every game for us. He used to come on when the opposition were a little bit tired and his pace would blow them out of the water. It was only as the season went on that he really got into it and started playing 90 minutes.
"A different side to him began to come out in the play-offs. You saw him fighting a lot more. Against Club Brugge, he was really putting his body about. Add that winner's attitude that he had to his quality on the ball and you have a special player on your hands."
A similar process is happening at Brighton. Mitoma completed a whole Premier League game only once prior to the World Cup but has now done so in four of their last five matches. It underlines his growing importance, the sense that this could be his time.
"To see him playing at the World Cup was the icing on the cake, really. I was proud to have played with him. There was no ego with him so it is really nice to see him doing so well at Brighton and he is still young so he is going to develop. He is just a top player."