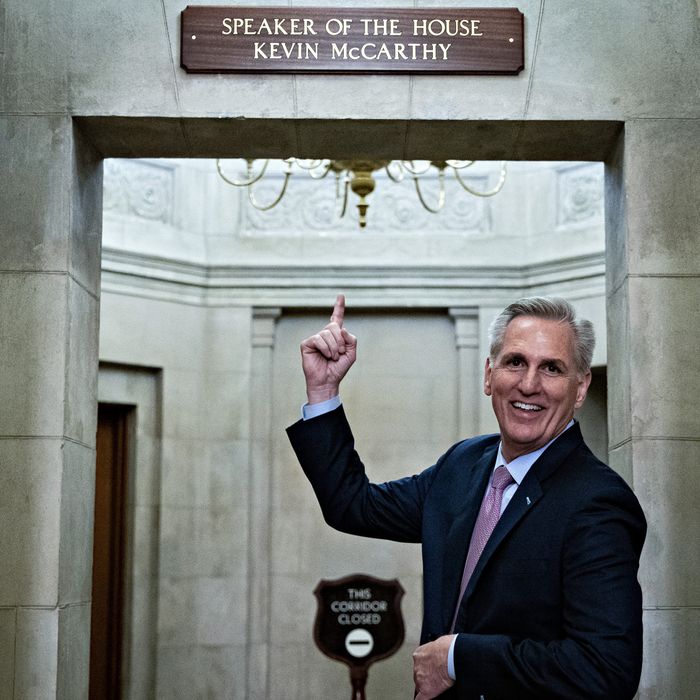 Photo: Al Drago/Bloomberg via Getty Images
Kevin McCarthy wanted to be Speaker in the worst way possible. And early Saturday morning, he got his wish.
After more than four days, 15 ballots, and one near-fistfight on the floor of the House of Representatives, McCarthy was finally elected Speaker of the House. It marked the culmination of a process that even McCarthy ally Patrick McHenry acknowledged was shambolic after 20 hardline Republicans spent the week refusing to vote for their party's nominee. After days of frenetic negotiations, the 20 were whittled down to seven and then six on Friday as McCarthy and his allies made concession after concession to the GOP's right wing.
With the California Republican's goal seemingly in reach late Friday night, the galleries filled with friends, families, and loyal aides. McCarthy was supposed to finally win on the 14th ballot. Then it all went wrong. "It looked like it was going to happen," reminisced Representative Doug LaMalfa, a longtime McCarthy friend and ally, "and then we were half a vote short."
McCarthy wasn't only just short of victory, but his fate rested in the hands of his fiercest critic in the Republican conference, Florida representative Matt Gaetz, who waited until the very end of the 14th-round roll call to announce his "present" vote — essentially abstaining — after voting against McCarthy on every previous ballot. In the immediate aftermath, House Republicans shouted "bullshit" and McCarthy, flanked by allies like McHenry and Representative Garret Graves, quickly surrounded Gaetz. An animated conversation ensued. Then Alabama congressman Mike Rogers showed up.
The furious incoming chair of the House Armed Services Committee had to be restrained from getting near Gaetz by a member of the House GOP leadership, North Carolina representative Richard Hudson, who grabbed Rogers's mouth from behind while Graves pushed him up the aisle and away. The scene left the entire House stunned. Democrats craned for a better vantage and afterward shared photos and gossiped among themselves about the dumbfounding imbroglio.
Representative Mike Rogers is restrained from behind after arriving to confront Matt Gaetz following the 14th round of voting late Friday night.
Photo: Anna Moneymaker/Getty Images
It appeared to all be over as McHenry stood up to ask that the House adjourn until Monday. Republicans, McCarthy supporters, and critics all voted to leave town, while Democrats voted "no" in order to prolong the spectacle. And then in a matter of minutes, everything changed.
"We were about to adjourn," recalled LaMalfa. "And I'm sitting there — I don't know if I really want to adjourn. Then all of a sudden, they're reversed. And I'm sitting there after what I saw happening in the back, [wondering], 'How's that gonna come together?' So some little bit of magic happened."
The magic, which was helped along by former president Donald Trump calling members on the floor on McCarthy's behalf, prompted a House GOP 180. Suddenly Republicans stampeded over the clerk to change their votes, while a top McCarthy staffer stood on the floor shouting and imploring at members who had already voted "yes" to now vote "no." The motion to adjourn failed, the 15th ballot began, the remaining holdouts all voted "present," and McCarthy was finally able to crawl over the finish line — some 90 hours after the process began.
Even the moment McCarthy officially became Speaker was underwhelming. For months, if not years, he had stumped the country promising a post-red-wave vision of Nancy Pelosi handing him the gavel in a chamber packed with loyal supporters of the dozens of Republicans he had helped elect in the midterms. But the wave petered out, leaving McCarthy's party with a slim five-vote majority and the debacle of an intra-GOP power struggle. And it wasn't Pelosi who handed him the gavel, but new Democratic leader Hakeem Jeffries, after an extended partisan stump speech that McCarthy had to listen to, standing politely, one hand clasping another, at one in the morning.
Although McCarthy had occupied the suite in the Capitol reserved for the Speaker for days before officially taking office, it wasn't until he walked back after the vote that the sign "Kevin McCarthy, Speaker of the House" appeared above its entrance. He marveled when he finally saw it. "Worth the wait," he said as he posed for pictures underneath it. McCarthy eventually decided he wanted his own picture and handed his phone to an aide for a personal shot of him pointing up at his new sign. "Sweet," McCarthy remarked after the phone was handed back, before he finally entered the office to loud cheers from those awaiting him inside.
There are no style points in becoming Speaker. When their portraits are hung in the Capitol, there is no notation next to them about how many ballots it took or whether they had to desperately lobby an archnemesis on national television in the process. And for McCarthy, it's not only how arduous the process was and how publicly it played out, but that the concessions he made leave him weaker, both politically and procedurally, over the next two years. He's not only left with a slim majority and limits of a divided Congress, but at the mercy of a rump of extra-demanding right-wingers with no qualms about constraining his power. But no matter how things go or how messy the House gets on Monday and beyond, McCarthy will get to be immortalized with a Capitol portrait. It's the one thing the Freedom Caucus can't veto.