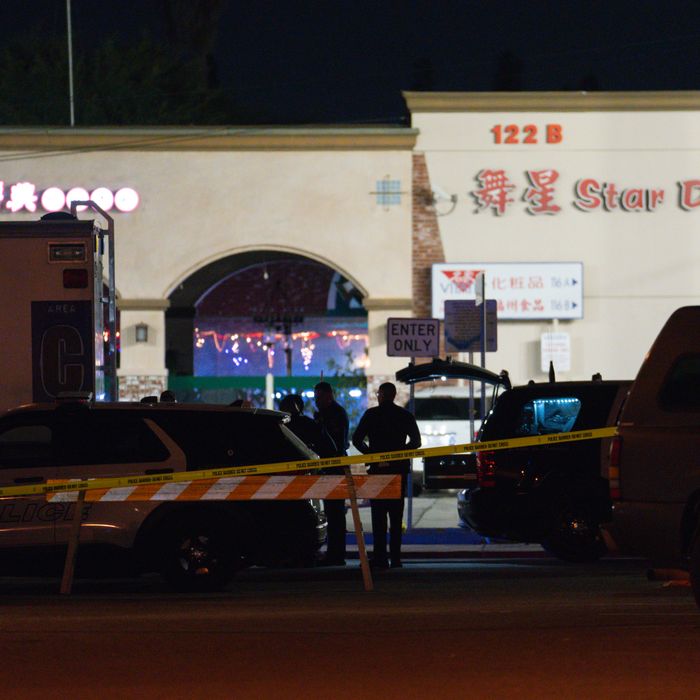 Law enforcement at the scene of a mass shooting at Star Ballroom Dance Studio in Monterey Park, California.
Photo: Eric Thayer/Getty Images
At least ten people were killed and another ten injured after a lone gunman opened fire late Saturday night inside a Los Angeles–area dance studio where people had gathered following a Lunar New Year festival. After a multi-hour manhunt, the 72-year-old gunman took his own life after he was found and confronted by police. Below is what we know about this still developing story.
The suspected shooter, identified by police as 72-year-old Hoo Can Tran, was found dead of a self-inflicted gunshot wound late Sunday morning. At around 10 a.m. in a grocery store parking lot in Torrance, California, police attempted to stop a white van which matched descriptions of the gunman's vehicle. The driver shot and killed himself as police approached, and authorities later confirmed that evidence found inside the van indicated that it was the suspected gunman, and that he had acted alone.
Authorities are still investigating the gunman's motive and say they have not ruled out any possibilities, including whether or not the shooting could be classified as a hate crime.
Earlier Sunday, police had only described the shooter as a male Asian somewhere between the age of 30 and 50. The Los Angeles Sheriff's Department eventually released these images of the suspect:
America's latest mass shooting struck the Star Dance Studio in downtown Monterey Park, a majority Asian community of about 60,000 people just east of Los Angeles, which is known as the country's "first suburban Chinatown." The San Gabriel Valley city hosts what is traditionally one of Southern California's largest Lunar New Year celebrations, a two-day festival that began Saturday.
The first 911 calls came in around 10:22 p.m. Saturday, and police officers responded within minutes. "When officers arrived on scene, they observed numerous individuals, patrons … pouring out of the location, screaming. The officers made entry to the location and located additional victims," Andrew Meyer of the Los Angeles County Sheriff's Department told reporters early Sunday morning. Ten people were pronounced dead at the scene and another ten victims were transported to area hospitals. Seven victims remained hospitalized as of Sunday afternoon.
Police say that about 20 minutes after the shooting in Monterey Park, the gunman attempted to attack a second dance hall, the Lai Lai Ballroom and Studio in the neighboring community of Alhambra. There, the gunman entered the business but he was confronted and quickly disarmed by two people inside, and then he fled. There were no injuries at the second dance hall, and Los Angeles County Sheriff Robert Luna said that the people who disarmed the shooter were heroes who "saved a lot of lives."
Luna described the weapon the wrestled away from the gunman as a "magazine-fed semiautomatic assault pistol. Not an assault rifle, but an assault pistol that had an extended large capacity magazine attached to it." CNN reports that according to a law enforcement source, the specific firearm was a Cobray M11 9mm semi-automatic — which resembles the MAC-11 subcompact machine pistol. Police have not confirmed that this was the same weapon he used in the earlier shooting. A handgun was also found in the gunman's van.
The owner of a restaurant across the street from Star Dance Studio told the Los Angeles Times that people fleeing the shooting told him there was a man with a semiautomatic gun who had reloaded after running out of ammunition. A nearby resident told the Times that friends who had been inside the dance studio when the shooting started said the gunman appeared to be firing indiscriminately and was armed with a long gun:
Wong Wei, who lives nearby, said his friend had gone to the dance club that night with a few of her friends. His friend was in the bathroom when the shooting started. 

When she came out, he said, she saw a gunman and three bodies — two women and one person who was the boss of the club, Wei said. He said his friend escaped to his home around 11 p.m.

The shooter was carrying a long gun and appeared to fire indiscriminately, his friends told him. 

"They don't know why, so they run," he said.
Police haven't provide any information about the victims killed in the shooting other than to confirm that five men and five women were killed, and that the youngest were in their 50s and 60s.
As of Sunday afternoon, seven victims who were injured in the attack remained hospitalized.
Police stand guard at the scene near the intersection of Garvey and Garfield Avenue in Monterey Park, California, early Sunday morning.
Photo: AFP via Getty Images
Roughly two-thirds of Monterey Park's residents are of Asian descent, and the community's popular two-day Lunar New Year festival began Saturday, attracting tens of thousands of people. Adds the Associated Press:
The shooting occurred at Star Ballroom Dance Studio, a few blocks from city hall on Monterey Park's main thoroughfare of Garvey Avenue, which is dotted with strip malls full of small businesses whose signs are in both English and Chinese. Cantonese and Mandarin are both widely spoken, Chinese holidays are celebrated, and Chinese films are screened regularly in the city.

The business offered dance lessons from Tango to Rumba to the Fox Trot, and rented its space for events. On Saturday, its website said it was hosting an event called "Star Night" from 8 p.m. to 11:30 p.m..
A dance instructor who taught at the studio told the Los Angeles Times that the weekly Saturday night parties were mostly attended by seniors, including people in their 80s and 90s.
Sunday's events for Monterey Park's Lunar Near Year festival were canceled "out of an abundance of caution and in reverence for the victims," Monterey Park police chief Scott Wiese announced Sunday morning.
The incident was California's third mass shooting involving four or more victims this year, according to Gun Violence Archive. It was the deadliest mass shooting in the U.S. since 21 people were killed in the Uvalde school shooting in late May.
This post has been updated throughout.