Over 1,000 automotive professionals from 100 businesses have now achieved Carbon Literate status to help achieve their wider sustainability objectives.
The Automotive Carbon Literacy Toolkit was launched 18 months ago and is funded and developed in partnership between Auto Trader and the Carbon Literacy Project.
The training was designed in close collaboration with retailers and manufacturers, including Lookers, Nissan, Marshall Motor Group, Motorpoint and Available Car.
Available Car, Carbase, Dick Lovett, Drive Green, Hendy Group, Inchcape, John Clark, Lookers, Marshall Motor Group, Motorpoint, Perrys, Sinclair Group, Snows, Smallbone & Sons and TrustFord are some of the dealer groups and businesses that have completed the training.
Duncan McPhee, Lookers chief operating officer, said: "We know that climate change and carbon emissions is a topic that is massively important to us, our colleagues and most importantly our customers.
"Over 100 colleagues have now gone through the programme, including all our executive team and our divisional leaders, giving them the knowledge and tools to make better life choices and small changes to their habits around carbon reduction.
"All these small actions collectively roll up to big impacts as a society, and it's also enabled our people to have more in depth conversations with customers about carbon emissions including information about EVs and how to transition from ICE.
"We'd recommend any organisation, regardless of what part of the industry they represent, to get involved with the Carbon Literacy Toolkit to think about how we can all collectively do our bit."
The next 2,000
The dedicated team of trainers from Auto Trader's Sustainability Network, which manages the initial training alongside the Carbon Literacy Project, aims to grow the number of people trained to 3,000 across 250 businesses by March 2024.
In addition to working closely with brands such as Volkswagen Group, BMW Financial Services, Volvo Financial Services, and Vauxhall to roll the training out across their respective organisations over the months to come, the team is partnering with some of the industry's main trade bodies, including the Society of Motor Manufacturers and Traders (SMMT) and National Franchised Dealers Association (NFDA). 
Sue Robinson, chief executive of NFDA, said: "With the automotive industry being significant contributors to carbon emissions and as the industry's main trade body for franchised retailers in the UK, it's very important that the NFDA and its members support the Automotive Carbon Literacy Toolkit.
"NFDA has committed to joining the growing number of certified automotive businesses in the UK and begin our sustainable journey by signing up to the training.
"The Toolkit ensures businesses gain a better understanding of the impact that their individual, and collective, decisions as a business have on the environment and offers guidance on how best to navigate towards a more sustainable and greener sector for automotive retail.
"NFDA encourages all franchised dealers to adopt the training toolkit and join us on our sustainable journey."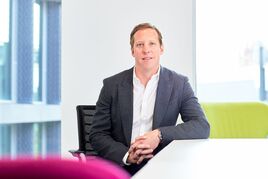 Nathan Coe, Auto Trader chief executive (pictured), said the level of collaboration across the industry and the pace with which the toolkit has been embraced shows that carbon literacy is becoming an important part of the industry's journey towards sustainability.
In-house training
The Toolkit is designed to support in-house Carbon Literacy training, which is typically delivered during a one-day seminar and can be conducted virtually or face-to-face.
It contains tailored training content, a trainer guide, detailed resources and dedicated support from a member of the Carbon Literacy Project team.
The course covers a broad range of climate change related topics centred around the automotive industry.
The objective is to create greater awareness of the carbon costs and impacts of everyday activities, and to inspire people to reduce their emissions on an individual, community and organisational basis.
With every colleague trained (each of which will receive an individual certificate of accreditation), the organisation can progress towards becoming a fully accredited Carbon Literate Organisation, achieving key milestones (Bronze, Silver, Gold, Platinum) along the way.
Dave Coleman, managing director of the Carbon Literacy Project, said: "These carbon literate learners formulate and take low carbon actions and initiatives within their own organisations as part of their training.
"They then train more colleagues and collaborators, who in turn also act and share their learning with others, so this positive cascade of understanding and action has already spread far and wide, across and beyond their own organisations, right across the sector.
"This is the "greening" of the automotive sector, top down and bottom up, at the same time, and comes not a moment too soon.
"As a result, Auto Trader, and all the businesses that supported the development of the Toolkit are rightly being lauded, both as thought leaders and as the catalysts for change in the automotive industry."