Pre-order our NEW cookbook, Love & Lemons Simple Feel Good Food, before the end of January to receive a special bonus meal plan!
Thank you SO MUCH for your enthusiasm about our cookbook announcement a couple weeks ago! We are so excited to share this NEW book with you. Love & Lemons Simple Feel Good Food comes out on April 25, but it's available for pre-order now.
And a special bonus: If you pre-order during the month of January ONLY, we'll send you a free meal plan e-book. You have just 3 more days to snag this awesome thank you gift!
I know that April 25 might seem like a long way away, so I wanted to take today's post to explain some of the reasons to pre-order the book now.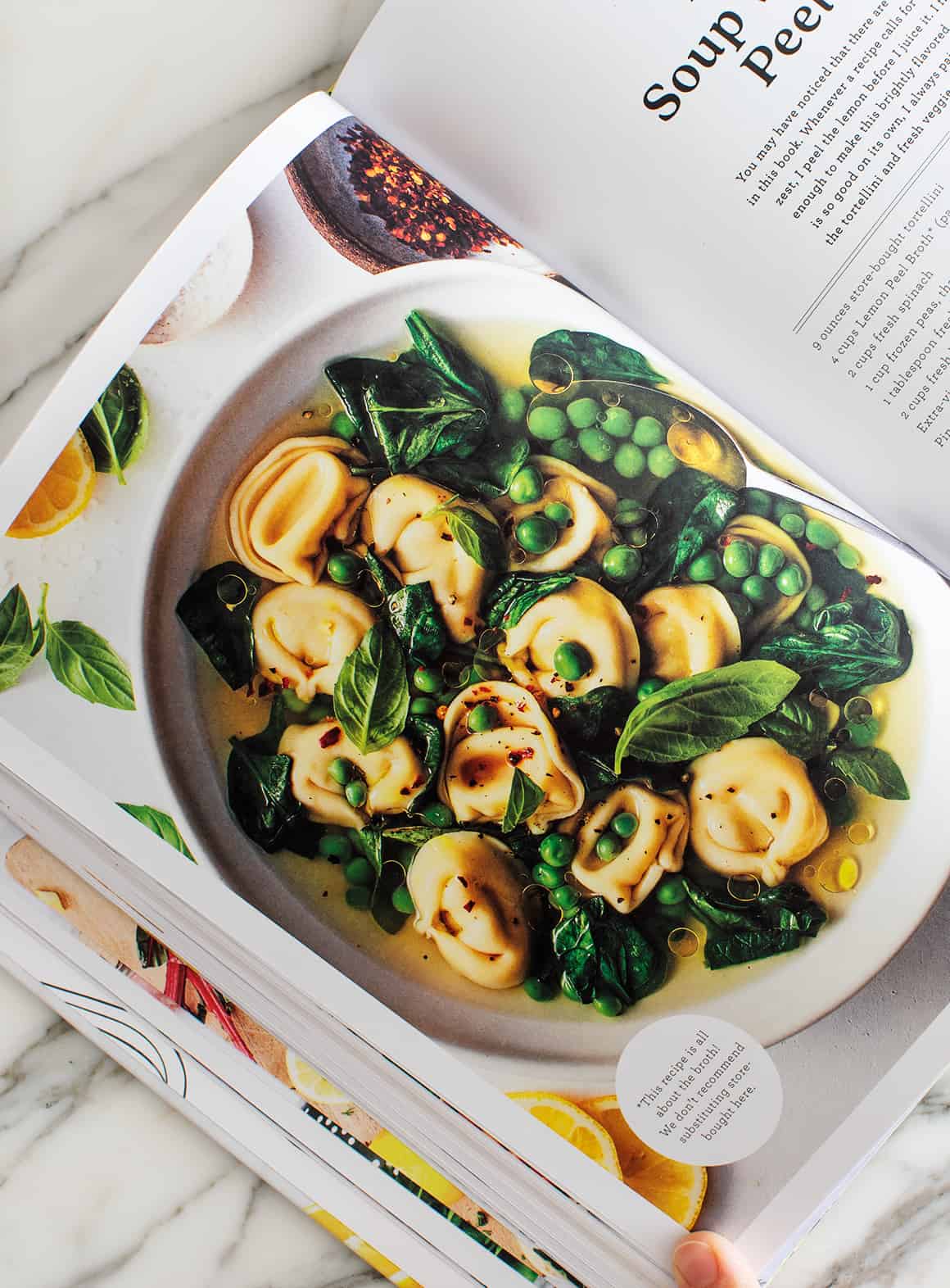 Why pre-order?
If you pre-order during January ONLY, you'll get our Feel Good Meal Plan bonus e-book! We'll send it to you right away so that you'll have plenty to cook while you wait for your book. It features some of our best recipes, which are organized into a fresh, 5-day meal plan with a step-by-step prep guide to streamline and simplify your cooking. You only have 3 days left to snag this e-book! Read more about it below.
You're guaranteed copy of the cookbook as soon as it comes out. No need to worry about supply chain issues or the book going out of stock! Pre-ordering now means that you'll get a copy on our publication day. In fact, we announced pre-orders so early this year because they help the publisher decide how many copies of the book to print. We want to make sure that there are enough to go around!
It's the best way to support our cookbook. Pre-orders have a huge impact on the success of a cookbook. They help determine how many copies of the book retailers order for the initial launch. The more copies they order, the more they promote the book to their customers, which helps us greatly. So, by pre-ordering, you're helping us spread the word about the book!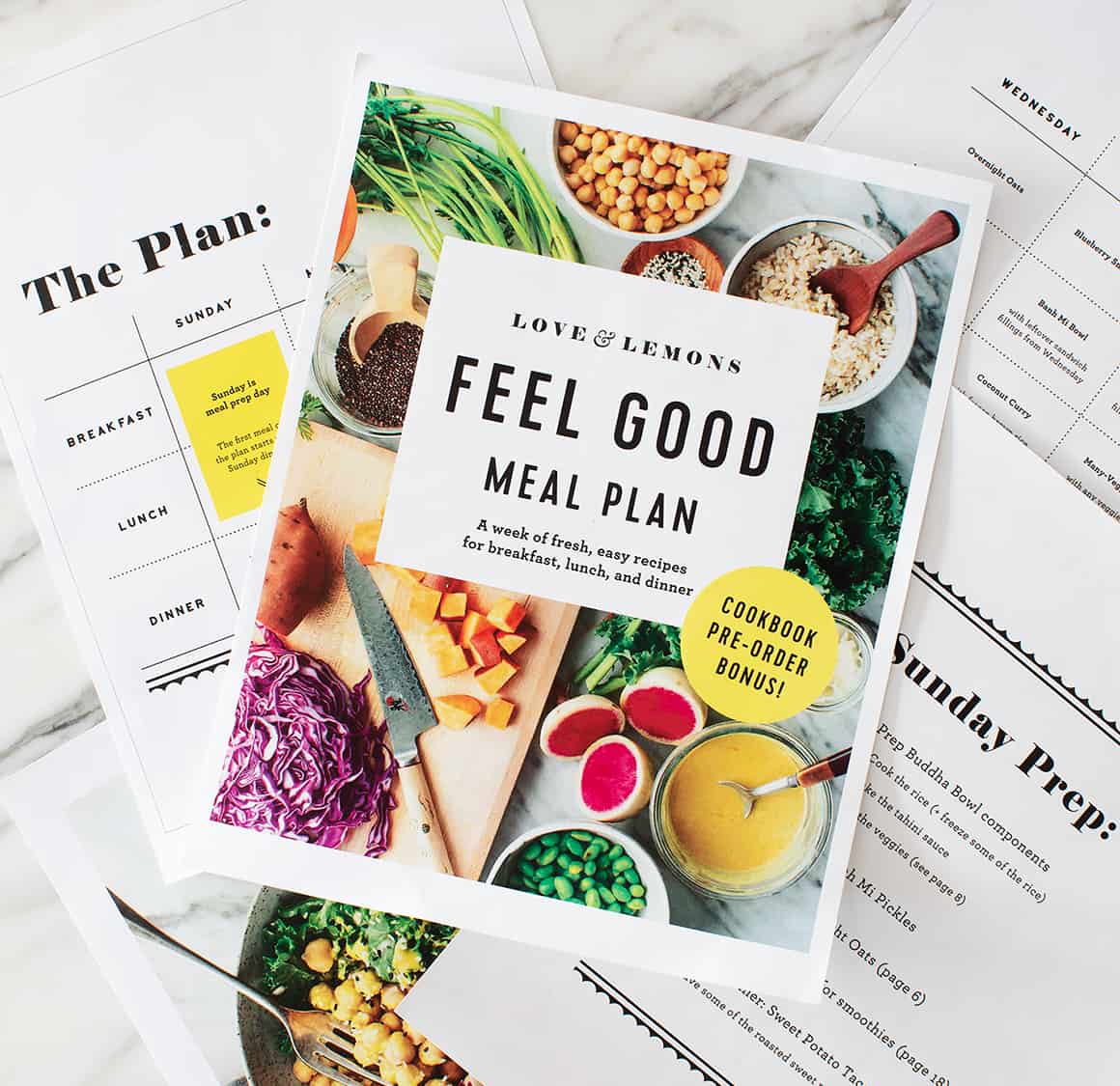 Tell me about the Feel Good Meal Plan e-book!
If you like fresh, fun, plant-forward meals, you'll LOVE this plan! It organizes some of our fan favorite recipes into a streamlined 5-day meal plan.
It has a step-by-step prep guide for Sunday, which sets you up for quick and easy cooking during the week.
Leftover components from dinners often flow into lunches, so you can shop and prep efficiently.
We'll send it straight to your email as a pdf, so you'll get it right away!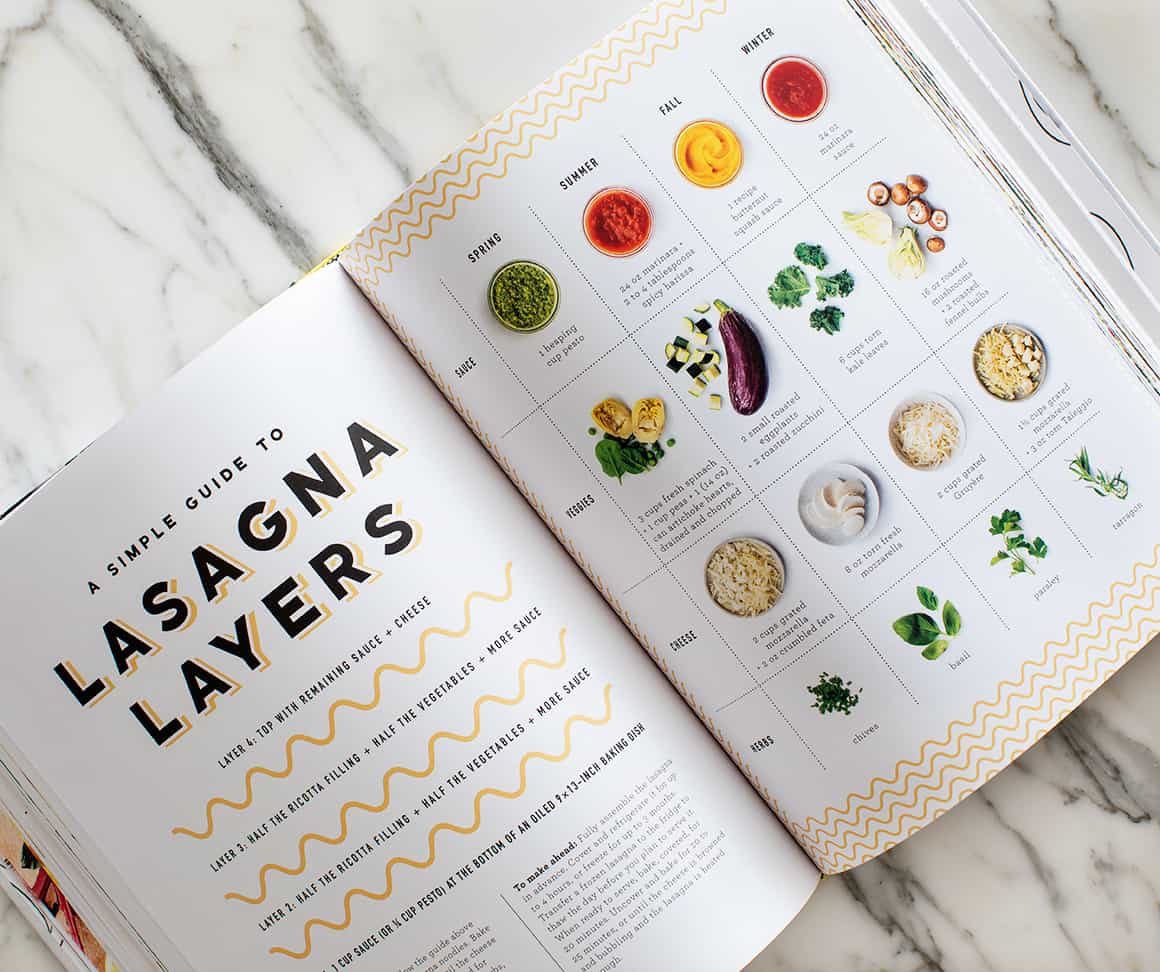 Wait, what's in the cookbook though?
Love & Lemons Simple Feel Good Food is for two types of cooks: those who like easy recipes to make right now, and those who like to plan ahead. (If you're a little of both, that's great too!)
It's packed with 125 plant-forward recipes (100+ are vegan!) for breakfast, lunch, dinner, and dessert,
TONS of gorgeous recipe charts,
and an entire section of 3-day dinner meal plans. These plans center around a single vegetable (like a whole head of cabbage) or a pantry staple (like a pot of rice). The recipes share a grocery list, and components from one day flow into the next to simplify your cooking!
I love ALL the recipes, but if I had to choose a few favorites, I'd pick the Curried Lentil Freezer Burritos (the BEST meal prep breakfast!), Creamy Tahini Chickpea Soup (it's bright, creamy, and SO easy!), and the Freezer Carrot Cake Bars (they taste like regular carrot cake, but they're made with whole foods ingredients like walnuts and dates!).
Want more details? Find them in this post!
Thank you SO MUCH for your support! xo, Jeanine
written in collaboration with Phoebe Moore
cookbook photography by Eva Kolenko
food styling by Marian Cooper Cairns