The market share of new BEVs (battery electric vehicles) across Europe in April was three percentage points higher than April 2022, representing 13% of the total 960,191 units new car sales.
April's total volume was 16% ahead year on year, marking a ninth consecutive month of growth.
Felipe Munoz, global analyst at Jato Dynamics, said: "These results are directly related to the easing of supply chain pressures which has increased the availability of new cars.
"On top of this, demand has continued to rise in response to the push from OEMs to widen their EV offering."
Munoz continued: "Tesla and MG fuelled the growth of BEVs last month. Consumers appear to be responding well to wider competitive offers and good deals presented by the two OEMs."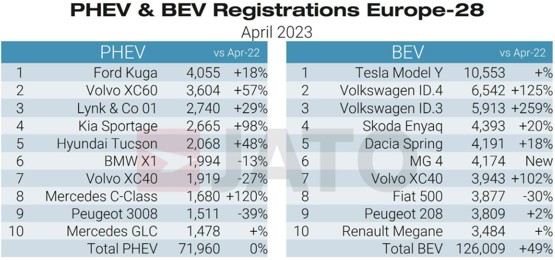 Volkswagen Group led the BEV rankings with an increase in registrations of 98% to almost 31,900 units – more than double the 14,200 units registered by Tesla – up by 865%.
Stellantis was in second place but lost ground due to a significantly smaller increase in BEV volumes of just 5%.
Geely, and the remaining Chinese manufacturers combined, also performed well registering a total 8,334 and 7,114 units respectively.
Stellantis, Volkswagen Group, and Geely also led in registrations of PHEVs (plug-in hybrid electric vehicles). Demand for these vehicles remained stable with a total of 71,960 registered units.