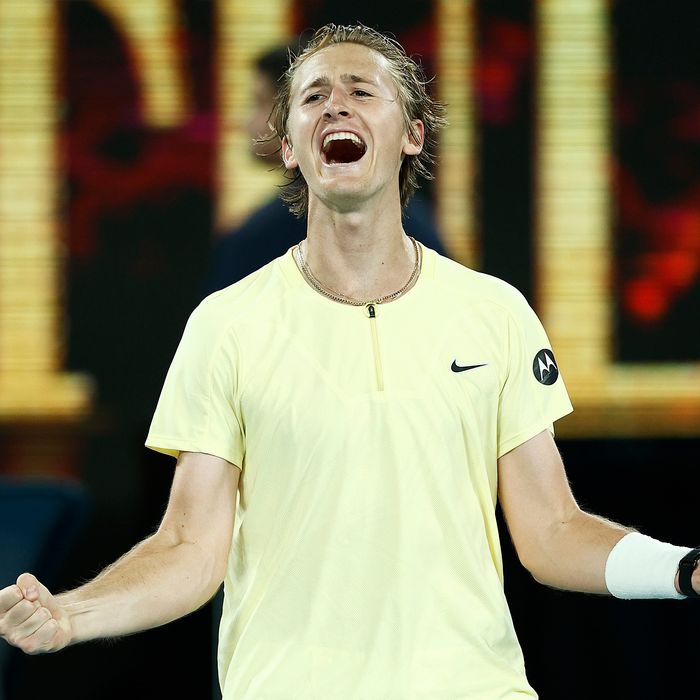 Photo: Daniel Pockett/Getty Images
It's been almost 20 years since a male American tennis player won a major (Andy Roddick at the U.S. Open in 2003) — an unthinkable gap for those who witnessed the Sampras-Agassi glory days of the '90s, to say nothing of the many U.S. champions who preceded them. Fans hungry for American talent have had plenty to savor in the women's game over the past two decades, Serena Williams first and foremost. But on the men's side, they've often had to settle for watching big-serving John Isner reach the quarterfinals before losing in four 7-6 sets.
That's changing — and quickly. The two most famous young American men's tennis players, Frances Tiafoe and Taylor Fritz, lost in the third round of this year's Australian Open. (Possible lesson for Fritz: Don't participate in a Netflix docuseries.) But the fact that six American men remain in the field speaks to the depth of talent that has bubbled up in the U.S. over the past few years. There are now 13 Americans in the top 100, and only one of them is Isner.
The domestic surge coincides with a new era for the men's game. After many years of almost complete dominance by three players — and many years of predictions that that was about to change — the men's game finally seems to be cracking open. Roger Federer retired, Rafael Nadal looks more vulnerable than he has in about 17 years, and Novak Djokovic … okay, he's still pretty damn good. Djokovic is still the heavy favorite to win in Australia this year, though a hamstring injury may make him beatable. But with World No. 1 Carlos Alcaraz injured and a series of major upsets over the first few days, the rest of the draw is anyone's to claim, and Americans are taking advantage.
So who are the six American men left in the hunt at the Australian Open? Before the third round wraps up Saturday, here's a brief guide:
Probably the most promising of the crop of American men left in Melbourne — and maybe the most promising young American man period — Korda, 22, dismantled the No. 7 seed and 2022 finalist Daniil Medvedev in straight sets Friday to reach the fourth round, or round of 16. (He is the only American to have done so thus far, though a pair of all-American matchups on the other side of the draw guarantees at least two more will join him.)
Currently the No. 31 player in the world, Korda made it to the fourth round of the French Open in 2021 and Wimbledon in 2021. He seemed poised for a breakout tournament coming in: At a warm-up tournament in Adelaide, he made it to the finals and had a match point against Djokovic. He couldn't convert against the unflappable Serb — who praised his game before and after the matchup — but Korda's win against Medvedev might be the confidence boost he needs to make a deep Melbourne run. And he's got some pedigree in that department; his father is Petr Korda, the scissors-kicking Czech who won the Australian Open in 1998.
The 20-year-old turned pro less than a year ago after winning the men's singles college championships playing for the University of Florida. (Shelton, like Korda, has tennis in the blood: His father, who coached him at Florida, was a top-100 player in the '90s.) American collegiate winners have not had a great record of success at the major tournaments in recent decades, but Shelton may be an exception. Last year, he won three ATP Challenger titles, knocked off Casper Ruud at an ATP final, and made it to No. 81 in the world, good enough to qualify for the Australian Open. A measure of Shelton's newness on the scene: He'd never been out of the country before last week.
In the first round, he knocked out another promising talent, China's Zhizhen Zhang, in five sets. And thanks to Fritz's loss, he has a very winnable third-round match against Australian qualifier Alexei Popyrin.
The happy-go-lucky 25-year-old was one of the most highly touted juniors of the mid-2010s, winning the 2015 boys' French Open title (over Taylor Fritz). For years, his pro career foundered amid a series of injuries. But Paul has turned things around since he hired a new coach in 2019 who has helped him focus on his fitness and fulfill at least some of his early promise. Last year, Paul beat Alcaraz and Nadal and reached the round of 16 at Wimbledon. He is now No. 35 in the world. As Caira Conner wrote for New York last fall, Paul's speed and heavy baseline game are his calling cards. He'll need both to be in working order to prevail in his third-round match against another American …
Brooksby, 20, is the rare highly ranked pro with his own signature style of tennis. His underpowered serve looks like something you'd see at your local tennis club; he lacks any dominant ground stroke. Yet Brooksby consistently bedevils opponents by getting almost every ball back and being willing to hit any shot (drop shot, weird slice backhand) at any time — the classic annoying-but-also-formidable tennis adversary.
Brooksby won the USTA under-18 championship in 2018 and, since then, has climbed the ranks of the pros, reaching the fourth round of the U.S. Open and a No. 39 world ranking. This week, he notched the biggest win of his career, taking out No. 3 seed and U.S. Open finalist Ruud. He displayed some real mental toughness after blowing a chance to beat the Norwegian in straight sets, then coming back strong and finishing him off in the fourth.
The man once best known for his mullet has had an excellent 12 months. Wolf, 22, who was a top-ranked college player at Ohio State, had reached the third round at 2020's COVID-curtailed U.S. Open, then underwent hernia surgery in 2021 that sidelined him for most of the year. But he returned with some impressive results last year, including wins against top players Holger Rune and Denis Shapovalov and a run to the third round of the U.S. Open that included an upset of Spaniard Roberto Bautista Agut. Although he hasn't been at the top of the prospect list, Wolf has a huge serve and an intimidating forehand — enough weapons to make a name for himself. Wolf faces another fellow American in the third round …
Who is Mmoh? Even fairly plugged-in tennis fans have been asking the same question this week. Mmoh, 25, isn't that obscure — he won the USTA under-18 title back in 2016 and has played in several majors, making it to the second round in Australia twice before — but he is currently ranked No. 107 in the world, holds a career pro record of 14-27, and was not on many people's radar. Mmoh didn't even qualify for this year's edition but made the cut as a "lucky loser" when Belgian David Goffin withdrew. After defeating World No. 13 Alexander Zverev in the second round, which was by far the biggest win of his career, Mmoh has made it as far as any lucky loser before him. If he defeats Wolf on Saturday, he'll break the record. That would be appropriate because, at this year's Australian Open, it feels as if anything is on the table.