This delicious smoked turkey breast is flavorful, tender, and has the perfect crispy skin after smoking. We love this recipe for a smaller Thanksgiving or a smaller group of people. The leftovers make great turkey salad and turkey quesadillas, too.
Do you have a bigger group to feed? We have a whole smoked turkey recipe and a delicious roasted turkey recipe as well as other easy Thanksgiving recipes that are made with whole and easy ingredients.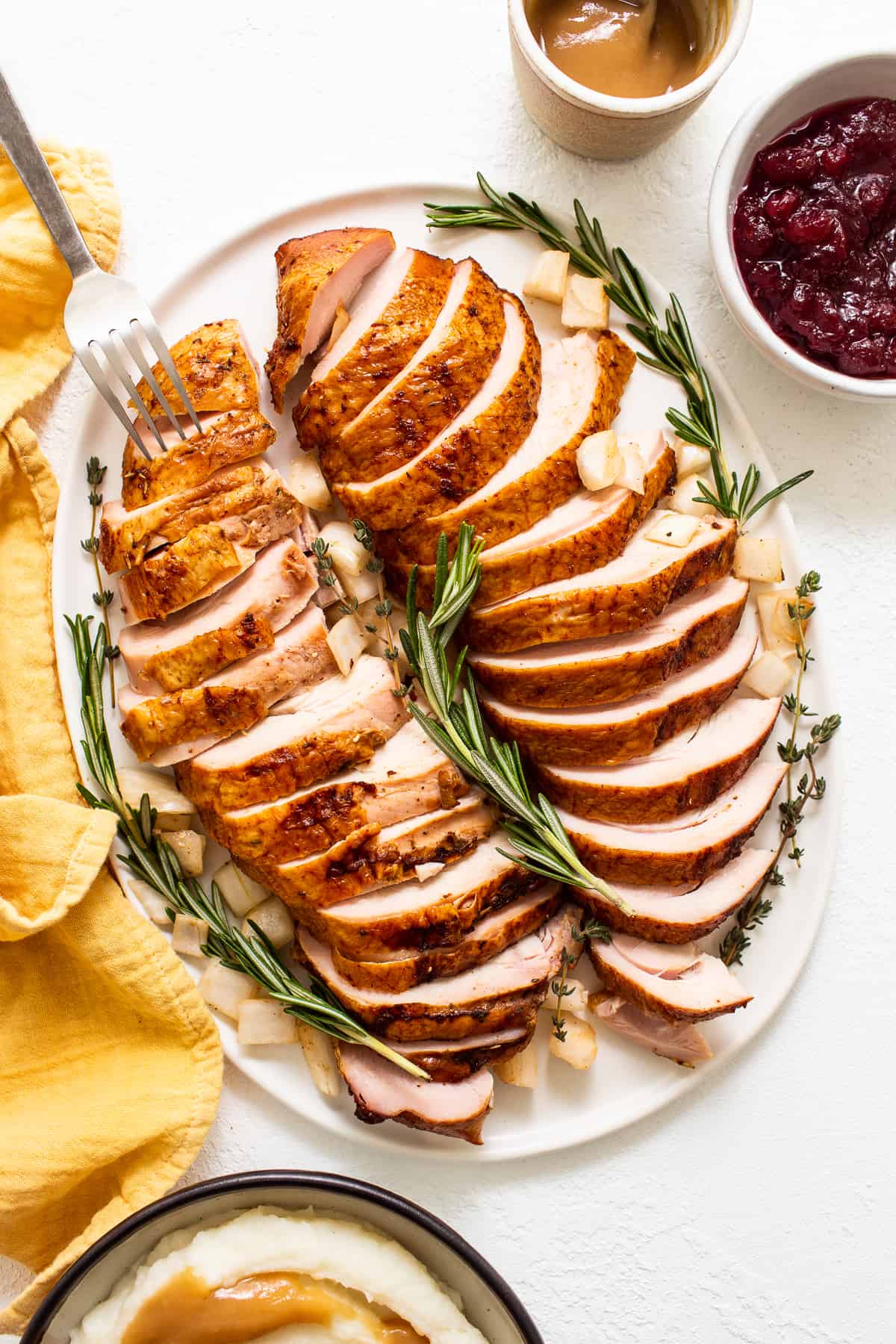 Delicious Smoked Turkey Breast
When you don't need quite as much turkey as a whole turkey offers, go for a turkey breast! This bone-in smoked turkey breast recipe offers flavorful and tender turkey every time.
This turkey breast is brined, rubbed with a delicious dry rub, and spritzed with an orange juice and apple cider vinegar spritz during the smoke time.
Why you'll love smoking a turkey breast!
Using a turkey breast is sometimes easier than cooking a whole turkey. A turkey breast fits into a large bucket, into your refrigerator, and In your smoker much easier than a whole bird.
This smoked turkey breast offers delicious leftover smoked turkey.
It's an easy recipe to make and involves the whole family.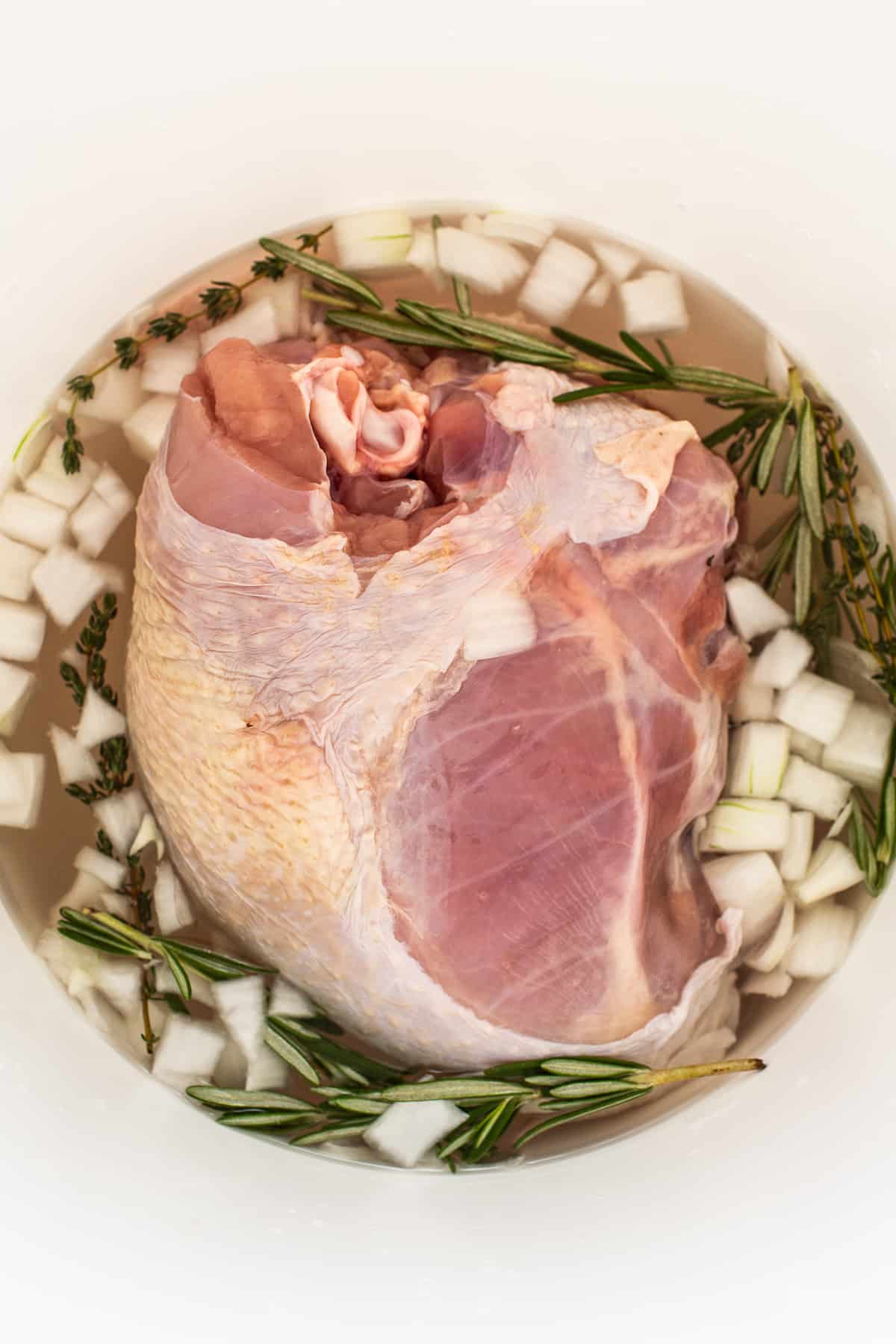 Featured Ingredients
Turkey Breast– this recipe calls for a 4-6 pound bone-in turkey breast. Be sure you find a turkey that is untreated. Some turkeys come pre-brined and we don't want that. This turkey should feed between 6-8 people if you are serving it with sides.
Brine Ingredients- you are going to bine your bird in an easy turkey brine which consists of water, salt, rosemary, thyme, peppercorns, garlic, and onions.
Check out some of our other turkey brine recipes: Smoked Turkey Brine and How to Brine a Turkey.
Turkey seasoning– do not skip this seasoning, it adds so much flavor to this recipe. This turkey seasoning is the most flavorful seasoning that compliments turkey and other poultry so well. It is a combination of sweet + savory. Please please make it!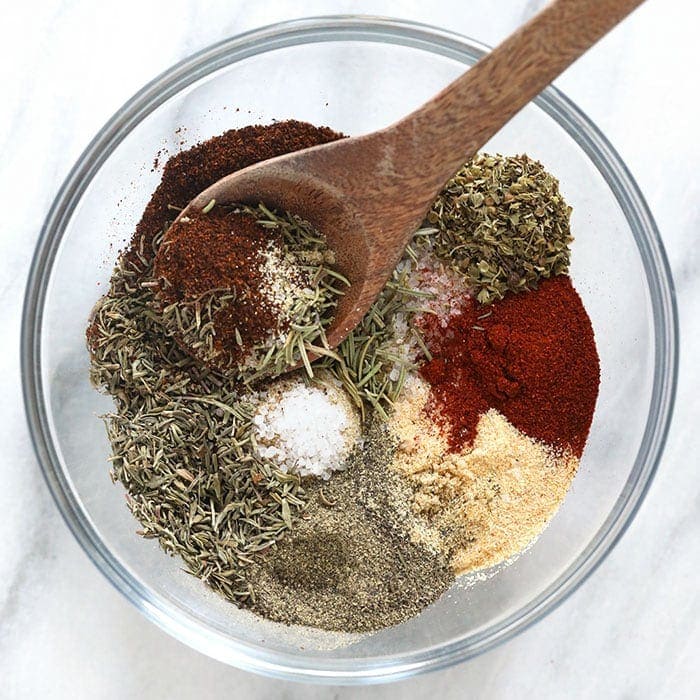 try it!
Turkey Seasoning
Ditch the store-bought turkey seasoning and use the most Flavorful Turkey Seasoning made with 9 ingredients you can actually pronounce. This seasoning is made up of garlic powder, brown sugar, kosher salt, and other simple seasonings.
Orange juice- orange juice is part of the spritz that you will spray the turkey with. A little sugar will keep the bird moist and keep the skin crispy.
Apple cider vinegar- the apple cider vinegar is also a part of the spritz. It cuts the sugar and gives the spritz a nice balance.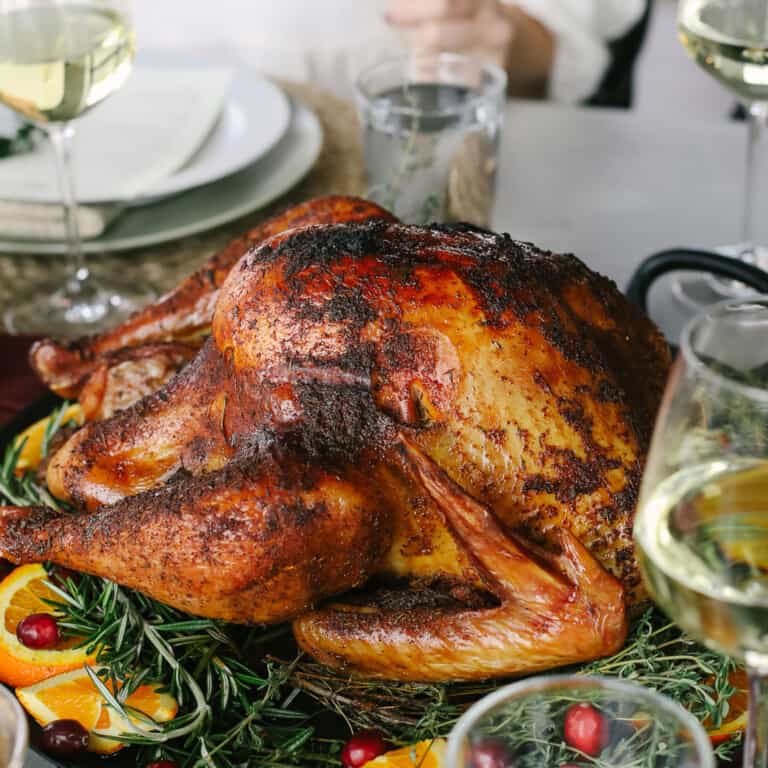 Try it!
Smoked Turkey
This smoked turkey recipe is exceptionally juicy. It is brined overnight and seasoned with a delicious turkey seasoning. It may take a bit of time, but it is so worth it.
How to Smoke a Turkey Breast
Brine the turkey
We highly suggest brining the turkey before you smoke it. Prepare the brining liquid and submerge the turkey breast in the brine after it has cooled off. You do not want to put your turkey in a warm brine.
Place the brining turkey in the refrigerator and brine the turkey overnight.
Prepare the turkey after brining
Remove the turkey from the brine and carefully rinse the turkey under cold water. Pat the turkey completely dry before adding the dry rub. Season the turkey with the turkey dry rub. Massage the dry rub into the turkey with your hands and add the white onion into the cavity of the turkey breast.
This is also the time to add the orange juice and apple cider vinegar to a spray bottle to spritz the turkey during the cook time.
If you don't have a spritz bottle you can add the orange juice and apple cider vinegar to a bowl, mix, and use a pastry brush to whip the mixture over the turkey.
Smoke Turkey Breast
Preheat the smoker to 240ºF and then place the turkey breast on the smoker for 2 1/2-3 hours or until the internal temperature of the turkey reaches 165ºF.
How long to smoke turkey breast?
A 4-6 lb. turkey breast will take around 2.5 to 4 hours to smoke. Make sure to cook until the internal temperature is 165ºF.
Let the turkey rest before eating
Remove the turkey breast from the smoker and let it rest for 10-15 minutes before slicing.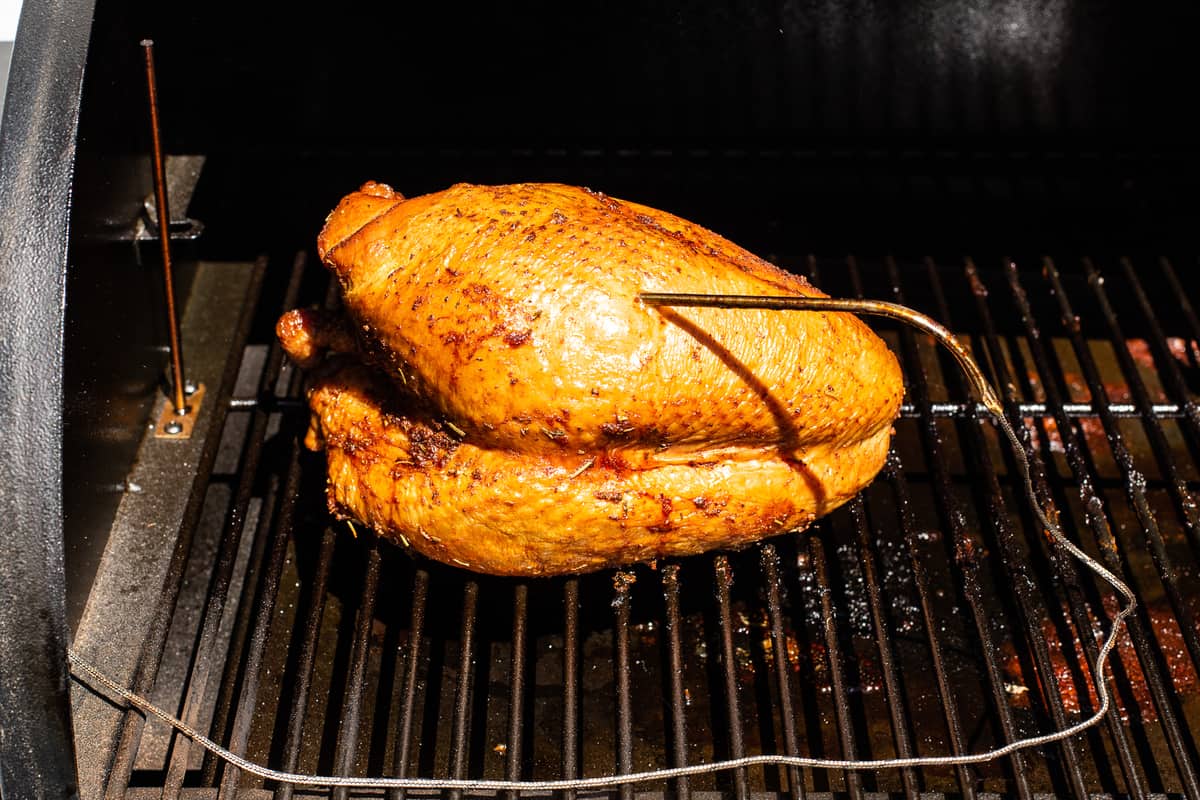 What is the Best Smoker?
Let's talk about smokers. If you have a smoker that you love, you can skip this section. We have smoked many different types of meat on many different smokers. Automatic pellet grills or smokers, manual smokers, and even regular grills.
Our favorite smoker is the Traeger electric smoker because (like a slow cooker) there is minimal work required once you set the Traeger. This smoker uses pellets rather than wood chips and it automatically feeds the smoker to adjust the temperature
That's right, nobody has to add wood chips or wood pellets themselves to keep the temperature up.
Smoker Essentials
Check out all of our favorite smoker products, including what smoker we use in the Fit Foodie kitchen for testing recipes!
Top Tips for Smoking Turkey Breast
Turkey breast can be hard to find outside of the holiday season. You can usually find bone-in turkey breast at your local butcher or in the frozen section of specialty grocery stores.
We suggest preparing the whole recipe of the turkey seasoning and storing it in a cold and dark place.
Some smokers have set temperatures so anywhere between 230-250ºF will work for this recipe. The timing just may change depending on what temperature you can use.
You can use a boneless turkey breast, but be sure to monitor the internal temperature of the turkey breast closely so it does not overcook.
FAQ
Can I use a regular grill to smoke?
Yes, you can use a gas grill or charcoal grill as a smoker. It does take a bit more work. All you have to do is buy one of these wood chip smoker boxes and then add wood chips throughout the smoking process to maintain the correct temperature.
What type of pellets do I use?
You can use whatever pellet you would like! We used the original Traeger pellets for this recipe. You can use hickory, cherry, or any other pellet flavor you'd like.
Why brine your turkey before smoking? 
We swear by a wet brine for our turkey breast before smoking because it not only adds a ton of flavor but also helps the turkey retain moisture during the smoking process.
How long to brine a turkey before smoking?
We recommend brining your turkey for at least 12 hours or overnight. So, you can do this the night before so that it's ready for smoking in the morning!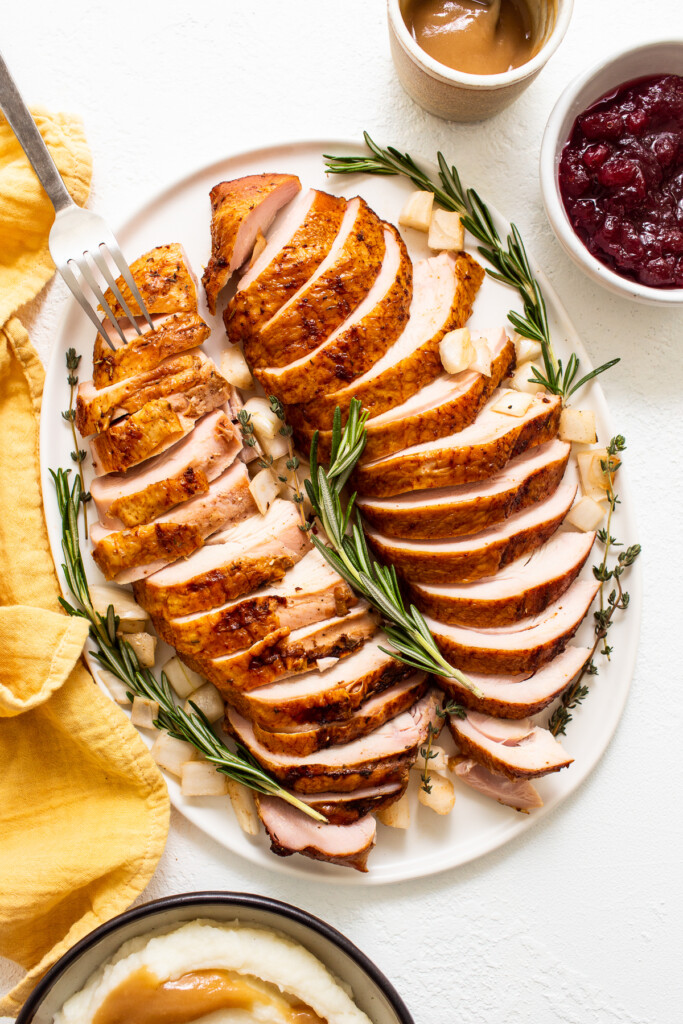 Storage
Store your turkey leftovers in an airtight container in the fridge for up to 7 days.
Can I Freeze Smoked Turkey Breast?
Yes, you can freeze leftover turkey for soups, salads, or any other recipes. Let the turkey cool completely and then place it in a freezer-safe bag and freeze it for up to 3 months.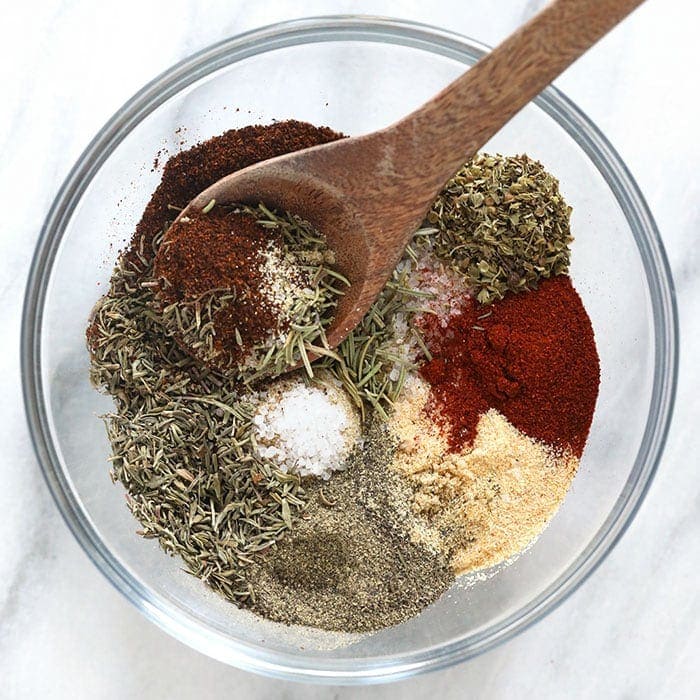 try it!
Turkey Seasoning
Ditch the store-bought turkey seasoning and use the most Flavorful Turkey Seasoning made with 9 ingredients you can actually pronounce. This seasoning is made up of garlic powder, brown sugar, kosher salt, and other simple seasonings.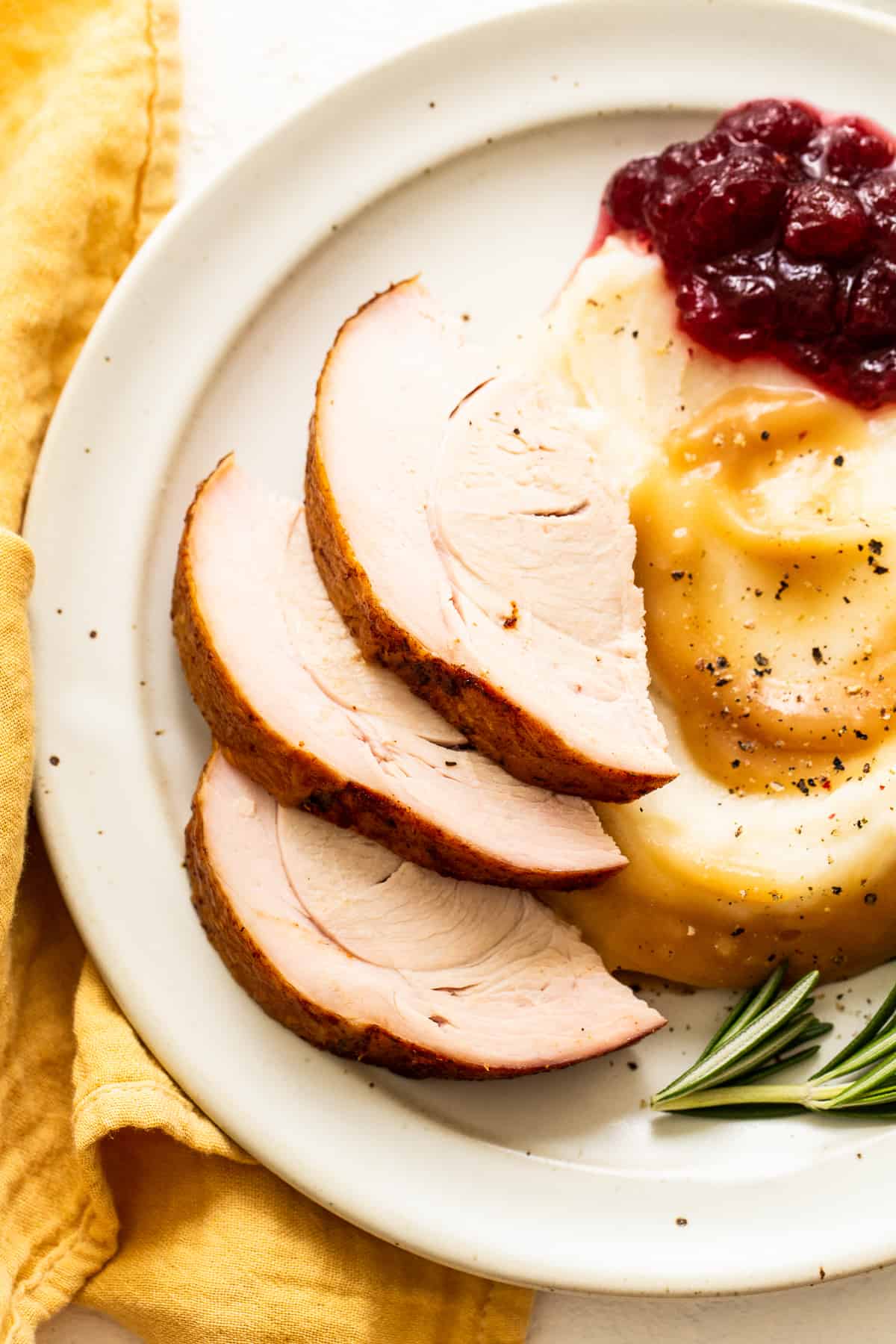 Photography: photos taken in this post are by Ashley McGlaughlin from The Edible Perspective.