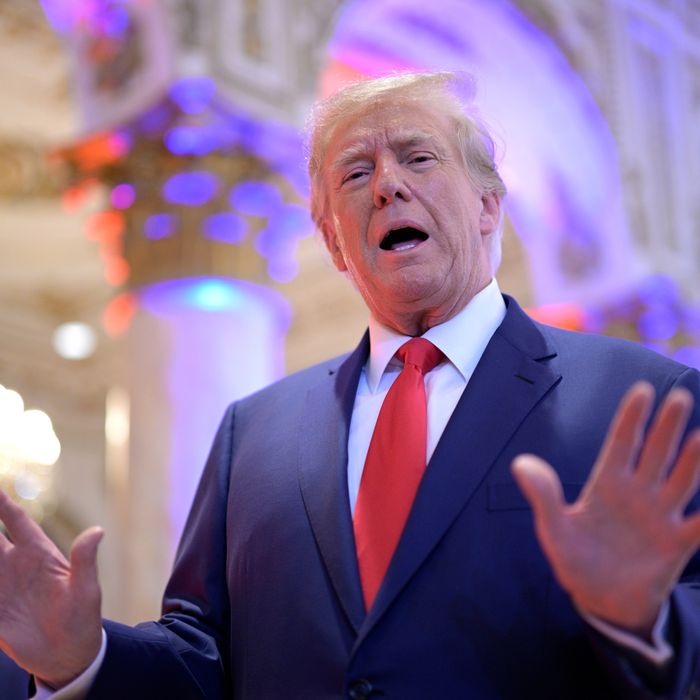 Photo: Phelan M. Ebenhack/The Washington Post via Getty Images
It's becoming increasingly clear that Donald Trump intends to dump Truth Social, the site he agreed to be exclusive with when no respectable social-media platform would have him. But rather than sitting the Truth team down for a tough but necessary discussion, he's openly flirting with Facebook and Twitter — and I fear he's going to ask Truth for an open relationship before this mess is over.
In the past week, there have been two reports that Trump is plotting to leave Truth Social. On Wednesday, NBC News broke the story that the Trump 2024 campaign had formally petitioned Facebook to unblock his account. (Trump later confirmed this, though he acted as if Facebook were pursuing him, saying, "If they took us back, it would help them greatly, and that's okay with me. But they need us more than we need them.") On Sunday, Rolling Stone reported that Trump has told multiple confidants he doesn't want to renew his exclusivity contract with Truth Social when it comes up in June.
Although Trump has publicly insisted Truth is the only social-media site for him, it seems he has struggled to commit all along. Weeks after he was banned from Facebook, Twitter, and other social-media sites over his posts during the Capitol riot, Trump signed a "mutual noncompete" with the co-founders of Trump Media & Technology Group, who had been working on a Trump-branded Twitter clone for months. In return for wedding himself to Truth exclusively, Trump got 90 percent of the company's shares. But the Washington Post reported that Trump kept flirting with Gettr, a rival conservative social-media network, as the Truth deal was being hammered out.
Trump ultimately didn't accept Gettr's offer of at least $100 million over five years to post on the site. But he renegotiated his original deal with Truth Social so his posts would be exclusive to the site for only six hours, and he could post "political messaging, political fundraising or get-out-the-vote efforts" immediately on any site.
For months, this stipulation was moot as no major social-media platform wanted the former president back. Then, in November, new Twitter owner Elon Musk dramatically unbanned Trump — but the former president still didn't post anything. At the time, Truth Social employees were probably relieved. Trump Media is plagued with various business troubles, and Truth is not expected to survive if it's no longer the exclusive home of Trump's online rants.
In retrospect, however, Trump immediately dumping Truth and running back to Twitter might have been the kinder move. For the next few months, Truth Social employees are going to be subjected to Trump trashing the site via anonymous sources, like in this bit from Rolling Stone:
Since late last year, former President Trump has informed several people close to him that he doesn't want to re-up the exclusivity agreement with his social media company, Truth Social, two sources familiar with the matter tell Rolling Stone. "There's not going to be a need for that," is how one of the sources recalls Trump describing his soon-to-expire contractual obligation. 

… "He said there's an expiration date and that he didn't want to make commitments," the other source says. 
Or here, where sources suggest Truth's CEO is delusional if he actually thinks Trump is sticking around:
Asked whether Trump planned to continue to make Truth Social his exclusive social media home, a company representative directed Rolling Stone to a recent appearance by TMTG CEO Devin Nunes on Newsmax where the former California congressman said Trump "has no interest in going back to Twitter." 

Others, of course, disagree. One person close to Trump who has spoken to the ex-president recently about Twitter tells Rolling Stone on Sunday: "There is no way [Nunes' statement] is true."
The definition of "political messaging" could be stretched to cover pretty much anything Trump posts on social media, so there may be an awkward period in which Trump posts his tirades simultaneously on Truth, Twitter, and (possibly) Facebook.
As Adele once said, "Sometimes it lasts in love, but sometimes it hurts instead." I'm pretty sure she was talking about romantic love, not the love between a megalomaniac politician and his social-media vanity project. But the line applies to both kinds of relationships, and it might be better if Trump used it now rather than stringing Truth along.