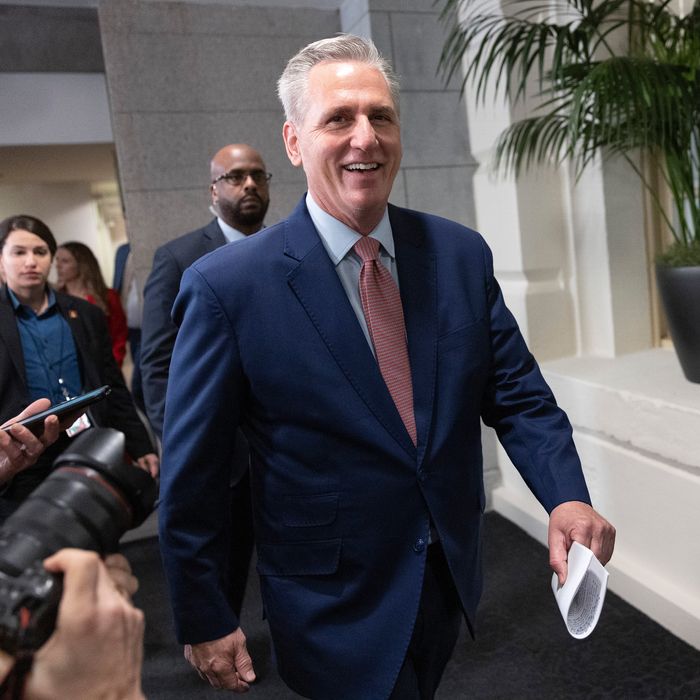 Photo: Kevin Dietsch/Getty Images
Kevin McCarthy is trapped in congressional purgatory. Thanks to an underwhelming midterm for his party, the longtime GOP leader must unite a cantankerous bunch of House members to get enough votes to become Speaker. But in the first round of voting on Monday, he lost the votes of 19 Republicans, when he could afford to lose just four defectors. Then he lost the second and third rounds of voting as well. The drama continued on Wednesday when McCarthy lost a fourth round of voting. Read on for live updates (with the most recent appearing first) on this chaotic process.
During the hours after the last House adjournment, rumors abounded of intense negotiations between Team McCarthy and the GOP rebels making some real progress. There was one bit of hard news just before the chamber reconvened for an evening session: the arch-conservative Club for Growth, which has opposed McCarthy's bid to become Speaker, decided to support him after the Congressional Leadership Fund (a McCarthy-aligned PAC that is a major player in House races) announced it would no longer endorse candidates in competitive primaries in open districts. This addressed a major conservative grievance.
With all sorts of speculation bubbling, McCarthy's backers moved for another adjournment until noon Thursday to consolidate his apparent gains. Democrats opposed the motion and demanded a roll call vote. It passed 216-214 with just four Republicans opposing it (two members from each party did not vote).
Even if McCarthy chips away at the 21 Republican votes he lost in the sixth ballot, it still only takes five Republican votes for another candidate to block him. But if he can show major progress before the next vote, perhaps he can resist pressure to step aside in favor of a compromise candidate.
The sixth ballot ended with absolutely no movement in any direction. Republicans decided to press for an adjournment until this evening at 8:00 p.m., and though Democrats appeared to object on a voice vote, none of them called for the "yeas and nays" (roll-call balloting). So Republicans either in small groups or perhaps as a conference will get together and figure out what, if anything, they can do to resolve the deadlock. For all the effort being made by Team McCarthy to spin it as a healthy exercise or as some sort of opening of the House to the "will of the American people," this is bad for their party and certainly paralyzing for one of the two congressional chambers.
To no one's surprise, McCarthy has failed to win the speakership on the sixth ballot, with five votes being cast for Byron Donalds before the roll call was out of the Cs.
While renominating McCarthy for a sixth time, Republican Representative Kat Cammack took some swipes at the Biden administration, which she referred to as "Obama's JV team in the White House." Some would say her party being unable to elect a Speaker after five votes is pretty "JV."
Then Representative Scott Perry (who asked Trump for a pardon over his involvement in his election schemes) attacked Nancy Pelosi in his speech nominating Byron Donalds, just moments after he declared, "This is not about personalities." Hecklers urged him to wrap it up.
There's a lot of reporting that Colorado's Ken Buck, a veteran conservative and a House Freedom Caucus member, is saying the fifth ballot was his last as a committed supporter of Kevin McCarthy. With a sixth ballot imminent, his is clearly a vote to watch.
They're going with a sixth ballot immediately because until a Speaker is chosen no other motion (other than a motion to adjourn) is in order.
The fifth ballot was identical to the fourth: no movement towards or away from Kevin McCarthy, with 20 members voting for Byron Donalds and one (Victoria Spartz) voting "present."
There's a lot of speculation about negotiations happening on the floor and deals potentially being cut, but it's not evident in today's voting so far.
Republican Representative Warren Davidson nominated McCarthy for the fifth round of voting. He listed all the rules and concessions that McCarthy has already made to the GOP rebels, and pointed out that Jim Jordan (who the rebels voted for yesterday) has been given a prime investigatory role as chair man of the Judiciary Committee.
Representative Lauren Boebert then renominated Byron Donalds, the rebels' pick. She got tongues wagging by alluding to Donald Trump's support for McCarthy, suggesting Trump ("my favorite president") should tell McCarthy he doesn't have the votes and should step aside.
Votes are still being cast, but it already appears that McCarthy can't win this round.
It quickly became apparent that Kevin McCarthy's standing would not improve much, if at all, from the previous three votes. The 20 House rebels who had cast their votes against him in the first three rounds of voting continued to do so, this time going with Representative Byron Donalds.
McCarthy also lost another vote, as Indiana's Victoria Spatz voted "present." That isn't as bad as a vote for Donalds, but it does erode McCarthy's standing and confirm he's losing support like a tire with a slow leak.
The "present" vote from Spartz is like losing 7/8 of a vote. The way the math works, "present" votes lower the threshold for a majority while denying McCarthy a vote. So if ALL the rebels voted "present," it would just take 10 of them to thwart McCarthy.
Texas's Chip Roy, one of the "never Kevins," has nominated Florida's Byron Donalds for Speaker. By choosing Byron Donalds as their vehicle, the rebels, are (a) trying to mitigate their image as a bunch of quasi-white-nationalist folks, (b) choosing a conspicuous outsider, and (c) putting forward someone who voted for McCarthy on the first ballot.
In his renominating speech for Kevin McCarthy, Wisconsin's Mike Gallagher tried to spin this week's chaos as a positive sign of "energy."
Shortly after noon, a House quorum was reached, and a fourth Speaker vote appears imminent. Whether it will produce any more clarity seem unlikely, however.
When the House convenes at noon, Republicans may call for a motion to adjourn immediately, buying them more time to figure out next steps to elect a Speaker. But they would need Democratic votes for that, and Democrats are in no mood to make their counterparts' lives easier:
Or at least shorter than yesterday … though Democrats may force Republicans to keep taking humiliating votes.
The former president backed McCarthy for Speaker in mid-December, but said nothing as Tuesday's drama was unfolding. When asked if he still supported him on Tuesday evening, Trump told NBC News, "We'll see what happens." In a Wednesday morning Truth Social post, he finally reiterated that he wants Republican House members to "VOTE FOR KEVIN":
Representative Matt Gaetz, a leader of the Never McCarthy faction, kept twisting the knife after the House adjourned on Tuesday. He sent a letter to the Architect of the Capitol asking why McCarthy is already inhabiting the speaker's office. And when a McCarthy backer referred to his group as terrorists he said the label had some truth to it, per Playbook:
After centrist Rep. DON BACON (R-Neb.) was quoted referring to the hard-right faction as the "Taliban 20," Rep. MATT GAETZ (R-Fla.) shot back on Twitter: "Well….as hurtful and false as that is….I too am prepared for an extended battle that I will ultimately win."
With House Republicans gridlocked, Congressman Tom Cole of Oklahoma made a motion to adjourn the chamber until noon Wednesday; clearly the skids were greased for that to happen, since it passed by a voice vote with only scattered "nos." McCarthy's House Freedom Caucus tormentors wanted a break to press additional demands on the would-be Speaker, and apparently Democrats had no problem with letting Republicans stew in their own juices during what may be a tense night of negotiations.
With the original McCarthy strategy of relentlessly pursuing a majority by force majeure having failed, the question now is how much more he is willing to grovel for House Freedom Caucus votes and how much of a power play they will insist upon before either declaring partial victory by letting the Californian have his gavel or pushing for a real compromise candidate.
In the meantime, House members-elect have not yet been sworn in, and the House cannot do any real business (or even take up the symbolic anti-Biden gestures Republicans had planned to pass immediately). The longer this goes on, the more Democratic unity and Republican disunity may make a residual impression that could endure for quite some time.
As the third ballot ends, Kevin McCarthy saw a tiny but perhaps significant attrition in his support, as Florida representative Byron Donalds switched his vote from McCarthy to Jim Jordan, giving the reluctant Ohioan 20. There's now talk of an adjournment (there are still a fair number of children on the floor who are probably getting hungry and grouchy), though Team McCarthy has resisted that option up until now out of fear that additional time will allow his foes to plot.
Adjournment would require a majority vote.
After a good bit of jockeying to try and end the standstill, McCarthy failed early on in the third round of voting as well with at least five renegade GOP figures refusing to join McCarthy's camp. Between voting rounds, he said that "we're staying in until we win," which suggests this could be a while.
Representative Jim Jordan tried to limit the damage, encouraging the House Freedom Caucus members who voted for him to lend their votes to Kevin McCarthy in the second round. McCarthy lost 19 Republican votes in the count. He did not gain any votes in the second round of tallying with all of the defectors rallying around Jim Jordan.
Republican Andy Biggs of Arizona ran to challenge McCarthy for House Speaker. While Biggs cannot win outright, he is making things harder for McCarthy. If an anti-McCarthy GOP House member voted "present," it would have taken ten votes to sink him in the first round of voting. But because some members voted for Biggs and other Republican figures, it only took five defectors to kill McCarthy's hopes of winning the Speaker position the first ballot. Ultimately there were ten votes for Biggs, eight votes for Jim Jordan, one for Lee Zeldin, and one for Jim Banks.
The House is expected to proceed to a second ballot directly, although Republicans appear to be in talks between the votes. Naturally, things aren't going so smoothly:
As a sign of the Republican mess on Monday, Representative Andy Harris even voted for Lee Zeldin — who is no longer a member of the House. Many Democrats enjoyed their front-row seats to the disarray, cheering for Nancy Pelosi as she voted for Hakeem Jeffries for Speaker:
On the second round, some Republicans were also enjoying the show:
As the vote neared, McCarthy made a final case for Speaker, reportedly telling House Republicans, "I've earned this job." Not everyone agreed:
McCarthy certainly has some allies in the room. Politico reports that Alabama representative Mike Rogers told the caucus that anyone who does not vote for McCarthy will not get a committee seat for the next two years. "This will not be forgotten," he said. He's also got some enemies:
The election of a new Speaker is normally a routine vote that barely makes news. But conservative extremists in the House Freedom Caucus are now trying either to defeat McCarthy or to shake him down for humiliating concessions. He has already made a number of them.
At noon, the first balloting for Speaker will occur, with just two announced candidates: McCarthy and Democratic House Leader Hakeem Jeffries. McCarthy needs a majority of members actually voting, but the House Freedom Caucus rebels are expected to vote "present" while all Democrats vote for Jeffries. The math indicates that if as many as 11 Republicans vote "present," McCarthy won't get his majority, and the Speaker's election will go to a second ballot, which will occur right away. There's really no way the House can do any other business until a Speaker is elected to supervise the organization of the chamber in the new Congress.
There's not a lot of precedent for what happens then — there has been only one prior multi-ballot Speaker's election — but if the extremists block McCarthy on the first ballot, they will then look for an alternative who is acceptable to a majority of House Republicans. (The name most often heard is House Minority Whip Steve Scalise, who is loyally backing McCarthy.) For his part, McCarthy has indicated he will doggedly pursue his own election through subsequent ballots until the opposition crumbles; dealmaking is likely to go on behind the scenes as long as the balloting continues. It will take a while since electronic voting is not used in this situation; the first and subsequent ballots will be cast by individual voice vote, adding to the drama.