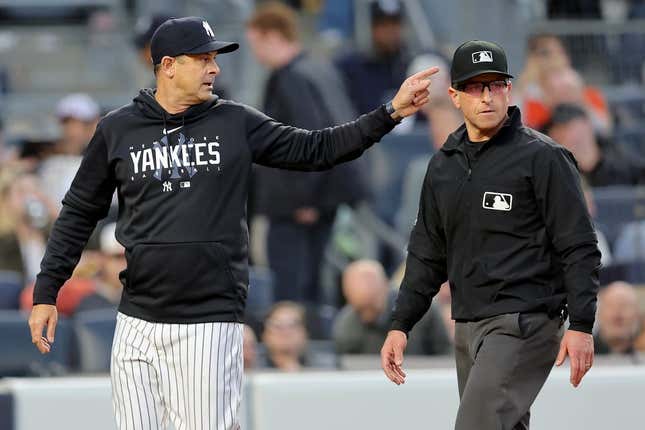 Major League Baseball handed New York Yankees manager Aaron Boone a one-game suspension and fined him an undisclosed amount Friday for his "recent conduct" toward umpires
Honor the real Pat Tillman this Memorial Day
Boone will serve the suspension Friday night, when the Yankees open a three-game series at home against the San Diego Padres
Boone was ejected Thursday in the middle of the third inning of New York's home game against the Baltimore Orioles. He argued with Umpire Edwin Moscoso about his strike zone, claiming the umpire had already missed four calls, and continuing shouting at Moscoso after he was ejected.
It was Boone's fourth ejection of the young season. He has been tossed out of 30 games since taking over as Yankees manager in 2018
Three of his ejections have come in the past 10 games, including Sunday during a game against the Cincinnati Reds and Thursday. The major league record for managerial ejections in a season is 11, occurring five times, most recently Bobby Cox in 2001. Cox was ejected more times in his career than any manager.
Boone addressed the reputation he was building when speaking with reporters Friday afternoon, before the suspension came down.
"I think I've earned that reputation," Boone said. "Do I think it's leading to a quick hook? Not necessarily. I think (Thursday) night was quick, but that could be a one-off. Maybe I'm delusional and that I did more than I think.
"It's happened a few times this week and I'd like to not get ejected and hopefully I can start a long streak of not getting ejected. I'm not necessarily afraid to, but no, it's not my intent to get ejected and I don't want to, and hopefully I won't for a while."
The Yankees had not yet announced who would manage the team Friday night. Bench coach Carlos Mendoza would be next in line
–Field Level Media